Broadcasters go big at Fan Expo Canada
Rogers, Bell and Corus will all present at the Labour Day weekend event, which serves as a kick-off to the fall premiere season.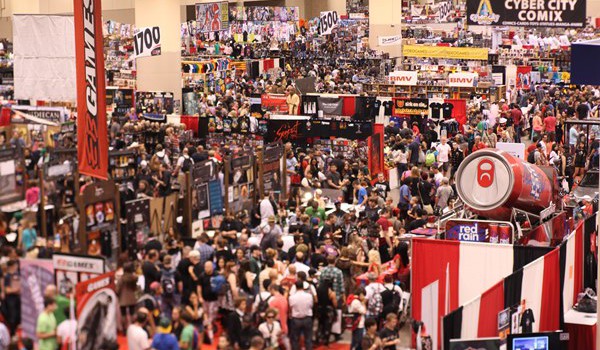 Canada's largest convention of sci-fi fans, genre devotees and gaming obsessives gets underway Aug. 31 in Toronto and Canadian broadcasters are counting on Fan Expo Canada to connect them with audiences and build excitement for new series.
Taking place over Labour Day weekend, Corus Entertainment's VP of marketing for kids and drama Anne Kane Jeffries told Playback Daily that the event offers a perfect kick-off for the fall season. 
The broadcaster will be hosting the world premiere of season two of Showcase's Travelers at the expo. The debut will be followed up with a Q&A with series stars Eric McCormack, MacKenzie Porter, Nesta Cooper and creator Brad Wright.
"Last year, Travelers premiered at Fan Expo to a packed room of more than 300 sci-fi fans," said Kane Jeffries. "The show went on to become the top new specialty drama last fall and we have an exciting opportunity to re-engage those fans at Fan Expo, particularly the young, sci-fi audiences."
In addition, Corus' History will present its Vikings VR experience, YTV will present an exclusive screening of Mysticons introduced by its lead voice actors, and Teletoon will present an exclusive Canadian screening of Hotel Transylvania: The Series, among other events.
Now in its 23rd year, the four-day event is expected to attract 147,000 people, with the bulk of attendees falling into to the much-coveted 25-to-34 age bracket.
Hayden Mindell, VP of TV programming and content at Rogers Media told Playback Daily that the expo's demographic is a key reason why the broadcaster attends the event. "It provides a unique opportunity for City to engage a core base of captive, passionate viewers," he said, adding that the broadcaster has had strong fan turnout and engagement at events in the past.
This year, City is launching its new Canadian original Bad Blood at the expo, in addition to showcasing some of its U.S. pickups.
Bell Media's Space channel has had a long-standing relationship with the Expo, having set up a booth at the event for nearly two decades. An official sponsor of the event, the genre network will this year present panels on the much-anticipated Star Trek: Discovery, with series stars like Sonequa Martin-Green and Jason Isaacs attending, as well as The Expanse (stars Shohreh Aghdashloo and Steven Strait attending). The hosts of Space's flagship series Innerspace will also moderate panels with the casts of Stranger Things, and Jaws' Richard Dreyfuss, among others.
The event has been a consistent winner for the channel, says Jon Arklay, SVP of Bell Media agency, brand creative and marketing.

At last year's event, 500 people turned out for its Killjoys panel (its largest to date) and its #SpaceFanExpo hashtag reached 12.5 million people organically, he said. "Although Fan Expo is in Toronto, the amplification of the event through social media and press offers Space invaluable brand awareness."
Image: A bird's-eye view of the 2013 event