TIFF '17: Rising Stars, Len Blum Residency participants announced
Montreal filmmaker Anne Emond will be the last resident of the Len Blum program, which is entering its final year.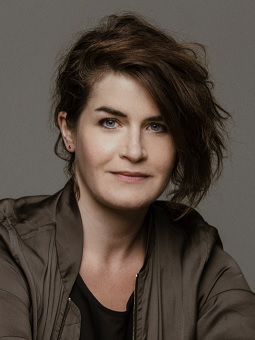 TIFF has revealed this year's selections for its Rising Stars and Len Blum Residency programs.
On a day packed with announcements, the festival named four up-and-coming actors to its seventh annual Rising Stars program, including Vancouver writer/actor Daniel Doheny, who co-created the CBC half-hour comedy series Human Town, and Montreal actor Théodore Pellerin, who last year starred in Xavier Dolan's Juste la fin du monde.
Also named to the program are actor/producer/director Mary Galloway, who made her directorial debut with the upcoming feature Unintentional Mother, and Toronto-based actor Ellen Wong, who has previously starred in Scott Pilgrim vs. the World and CW series The Carrie Diaries.
Alumni of the program, which sees participants take part in seminars with casting directors and one-on-one meetings with filmmakers, include Sarah Gadon, Tatiana Maslany, Stephan James, Connor Jessup, Sophie Nélisse and Shannon Kook.
Elsewhere, Montreal filmmaker Anne Émond (pictured) was named as the third Len Blum Residency recipient. The two-month program will see Emond, who has made seven short films and four features including Les êtres chers ("Our Loves Ones") and Nelly, staying at Festival Tower, where she will look to create her first English-language feature. Closet Monster director Stephen Dunn was named as the inaugural resident in 2015, followed by Sleeping Giant director Andrew Cividino in 2016. This is the final year of the residency, which is financially supported by Toronto-based filmmaker and distributor Ron Mann.
As well, TIFF named the participants in this year's Telefilm-sponsored Pitch This! competition. Now in its 18th year, the competition sees six teams pitch their feature project to an audience of industry experts, with the winner earning a cash prize of $15,000. The projects selected for this year's contest are 12 Days (Jennifer Mesich, Tracey Deer), Boring Girls (Coral Aiken, Hannah Cheesman), Fall from the Sky (Dan Montgomery, Deragh Campbell, Kaz Radwanski), Imposter (Adam Goldhammer, Evan Landry, Katie McMillan), Nadia, Butterfly (Dominique Dussault, Pascal Plante) and We Will Not Be Defeated (Andrew Nicholas McCann Smith, Dylan Reibling, Brian Robertson). The competition takes place at Glenn Gould Studio on Sept. 10.