PBS Kids picks up Luna Around the World
The U.S. pubcaster has commissioned 9 Story Media Group's latest toon for 2018.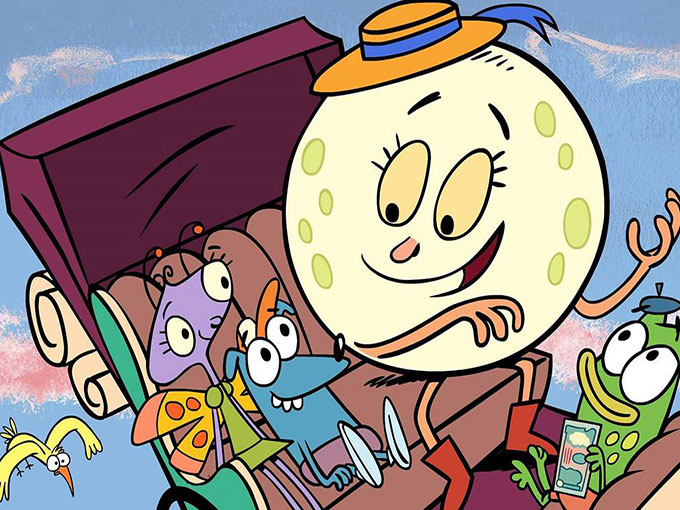 PBS Kids is rolling out new animated series Luna Around the World in fall 2018. Produced by Toronto's 9 Story Media Group, the toon was created by Emmy-winning animator, writer and artist Joe Murray (Rocko's Modern Life, Camp Lazlo).
It will debut across the U.S. on PBS stations, the new 24/7 PBS Kids channel and PBS Kids various digital platforms. The series is built around a social studies curriculum for kids four to seven and is aimed at helping them to appreciate cultures from all over the world and build global citizenship skills.
Currently, 38 half-hour episodes and a one-hour special are in production. Each episode will include two 11-minute stories, as well as interstitial content that features live-action segments about arts and culture and animated folktales and songs.
Luna Around the World follows three friends–an Aussie wombat, a Mexican butterfly and an American frog that travel the world with their parents' performance troupe. Luna the moon acts as their guide. 9 Story Distribution International is managing the distribution and merchandising rights for the series worldwide outside of Canada,
The new show will also offer supporting digital content, including corresponding games and on the free PBS KIDS Games App, along with clips and full episodes. A themed app will also launch after the series' debut.
9 Story and PBS KIDS have worked together before on several series, including  Daniel Tiger's Neighborhood, Peg + Cat, Wild Kratts and Nature Cat.