Unstable Ground, Federgreen Entertainment pact on Lifechanger
Raven Banner and Texas-based Uncork'd Entertainment will distribute the horror in Canada and the U.S. respectively, with production scheduled to begin in October.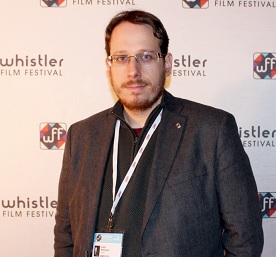 Broken Mile writer/director Justin McConnell (pictured) of Toronto prodco Unstable Ground is partnering once more with Federgreen Entertainment to produce his latest feature film Lifechanger.
The pact, forged at the Fantasia Film Festival's Frontieres coproduction market, will see Federgreen and McConnell head into production on the project this October in Toronto.
Toronto-based Raven Banner has signed on to distribute Lifechanger in Canada and Texas-based Uncork'd Entertainment will distribute in the U.S. Raven Banner is handling international sales.
The feature-length horror tells of a murderous shape-shifter on a blood-soaked mission to make things right with the woman he loves.
Executive producers are Keith Leopard of Uncork'd, Michael Paszt, James Fler and Andrew Hunt of Raven Banner and Pasha Patriki of 9 Light Entertainment. George Mihalka (My Bloody Valentine), Adam Mason (Hangman) and Serena Whitney (Mark of Kane) are consulting producers on the project.
A similar deal was struck at last year's Frontieres copro market, with Raven Banner, Indiecan, Unstable Ground, Uncork'd Entertainment and horror magazine Rue Morgue announcing a partnership to release a series of horror-focused anthology feature films for both U.S. and Canadian markets.
Earlier this year, Federgreen's Indiecan Entertainment acquired the Canadian distribution rights to McConnell's thriller Broken Mile following a screening at the 2017 Canadian Film Festival.