Wolf + Rabbit on growing Workin' Moms
With cameras rolling on season two of the CBC original comedy, Catherine Reitman and Philip Sternberg discuss what's next.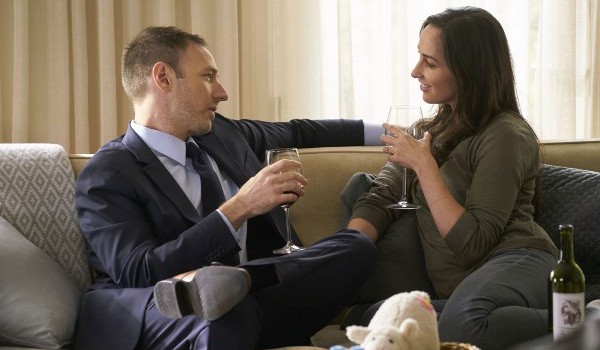 When Catherine Reitman and Philip Sternberg set out to make Workin' Moms - the CBC original comedy currently in production on its second season – the goal was always to target a co-viewing audience of both men and women.
"We've always said Workin' Moms isn't a show about moms," series creator, showrunner and star Catherine Reitman told Playback Daily at the Banff World Media Festival in June. "It's a show about humans experiencing identity crises."
And the viewership reflects that, she said, adding that the first season attracted a 44% male audience. Season one reached an average audience of 472,000 (2+), with 208,000 in the 25-54 demo, according to Numeris data provided by CBC.
Now, the goal is to expand the audience internationally. Produced by Reitman and Sternberg's shingle Wolf + Rabbit Entertainment, 13 new half-hour episodes of the comedy are filming in Toronto until October, with a premiere slated for the pubcaster's Winter 2018 schedule.
While the prodco is focused on season two, Sternberg said it is also working with distribution agent Coldsprings Media to bring season one to international audiences, though no deals have yet been announced. Looking further ahead, however, Reitman said the goal is to bring the series format to international broadcasters as well. Sternberg added that the half-hour comedy, and its specific characters of mothers grappling with returning to work, can translate easily into other territories and cultures.
"When you are taking this much risk and making more and more shows, which is the dream, formatting is a beautiful way of continually growing your profit, while relying on the idea that you really believe in and has proven effective," said Reitman. "And creatively it's very exciting because I feel very close to Workin' Moms and really believe in this topic and there was no reason that should just be in Canada."
Workin's Moms is executive produced by Reitman and Sternberg (Divorce Corp., Six Little McGhees).
Reitman said season two explores everything from "death to hemorrhoids," with the show's main characters Kate (Reitman), Anne (Dani Kind), Frankie (Juno Rinaldi) and Jenny (Jessalyn) all continuing to navigate issues in work and their relationships. Directors for the season are Reitman, Paul Fox (Schitt's Creek), Molly McGlynn (How to Buy a Baby), Sternberg and Aleysa Young (Baroness von Sketch Show). The series is written by Reitman, Rebecca Kohler (Kim's Convenience), Karen Moore (What Would Sal Do?), Jillian Locke (X Company), Kathleen Phillips (Sunnyside), Robby Hoffman (Odd Squad) and Hannah Cheesman (Whatever, Linda). 
In addition to Workin' Moms, the company is in development on Starting Over, for CBC, a dark comedy about a woman figuring out her life after she discovers her husband has been cheating on her with her best friends and her boss. 

The producers also eyeing expansion into longer-format television, said Sternberg. "One of the biggest things we've heard from our fans after season one was, 'Make [Moms] an hour.' It really spoke to something in Catherine and I. We want to break into drama and that's been at the forefront of our discussions and the meetings we've been having here [in Banff]."
Image: Philip Sternberg and Catherine Reitman in a scene from Workin' Moms.