Letterkenny gets another six-pack
Bell Media announced production is underway on another half dozen episodes of the CraveTV series, set to premiere later this year.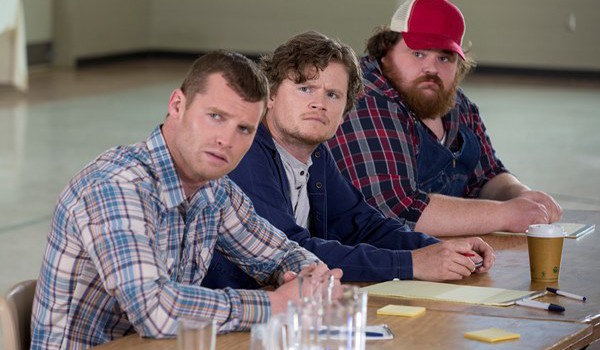 Letterkenny is heading back to CraveTV for another six episodes.
Production is currently underway in Sudbury, ON on the half-hour comedy, which is produced by New Metric Media in partnership with DHX Media and in association with Bell Media. While Bell Media initially ordered a six-episode third season, the broadcaster announced its added an additional six episodes for season three.
Created by Jared Keeso, the next six episodes are set to launch later this year, but specific release details were not announced (so quit asking on Twitters, says local hick, Dan).
The series revolves around the dustups of Wayne (Keeso) and his friends in their small Ontario hometown. It also stars Nathan Dales (Goon: Last of the Enforcers), Michelle Mylett (Four in the Morning), K Trevor Wilson (Jeff Ross Presents: Roast Battle), Tyler Johnston (Motive) and Jacob Tierney (The Trotsky).
Joining the writers' room this time around are 19-2's Jesse McKeown and Lynn Kamm. Jonathan Torrens will also return to pen two episodes.
Season three launched on Canada Day weekend, and while Bell Media would not divulge specific viewership numbers, the series is the most-watched on CraveTV, according to a release. Over the course of the long weekend, #Letterkenny also generated four million impressions on Twitter worldwide and 1.1 million in Canada.
To help promote the third season, the team behind Letterkenny employed some unique marketing tactics – including hosting a pop-up shop in downtown Toronto and launching its very own beer.
Letterkenny is executive produced by director and co-writer Jacob Tierney. Mark Montefiore and Patrick O'Sullivan are executive producers for New Metric. The series is produced with the participation of Canadian Media Fund, OMDC tax credits and the Canadian Film or Video Production Tax Credit and the Northern Ontario Heritage Fund.