Deals: Portfolio, PNP, Radio-Canada
Portfolio inks a raft of international sales, Pacific Northwest Pictures nabs theatrical rights to a buzzy U.K. drama, plus more.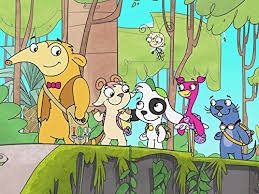 Portfolio Entertainment
Toronto's Portfolio Entertainment has made a number of international sales that will see both its proprietary and acquired content heading into international territories. On the proprietary front, the first two seasons of Portfolio-produced DOKI (pictured) were picked up by Ultra Kids (Ex-Yugoslavia), while Urkraine's Niki Kids acquired season one of Freaktown. Meanwhile, Discovery Kids (Middle East and North Africa) and E Junior (Middle East) picked up the preschool series Mack & Moxy, which is distributed internationally by Portfolio. The company also sold two seasons of the docuseries Do You Know? to Starz in the U.S. for its on-demand and online platforms.
Pacific Northwest Pictures
Vancouver's Pacific Northwest Pictures (PNP) has acquired all Canadian rights to the U.K. drama God's Own Country. The distribution co will release the film, which premiered at this year's Sundance Film Festival, in theatres this fall. The acquisition was negotiated between PNP VP Emily Alden and Jennifer Fattell, sales director at London, U.K.-based Protagonist Pictures. Directed by Francis Lee and starring Josh O'Connor and Alec Secareanu, the film tells the story of Johnny Saxby (played by O'Connor) who numbs himself to the realities of life with booze and casual sex until the arrival of a Romanian migrant worker (Secareanu) ignites an intense relationship. The project is produced by U.K. prodcos Shudder Films and Inflammable Films. PNP's recent acquisitions include Thomas Vinterberg's The Commune (Denmark), Hannes Holm's A Man Called Ove (Sweden) and David Lynch: The Art Life (U.S.), directed by Rick Barnes, Jon Nguyen and Olivia Neergaard-Holm.
CBC
Both Radio-Canada (French Canada) and Knowledge Network have picked up more episodes of the murder-mystery drama Midsomer Murders. The U.K. drama, now going into it 20th season (6 x 2 hours), is produced by Bentley Productions for U.K. broadcaster ITV. The new season sees the duo investigating more murders and mysteries in the seemingly quaint, yet surprisingly deadly, fictional English county of Midsomer.
Correction: a previous version of this story said that CBC had picked up Midsomer Murders for both English and French Canada, when in fact the series was only acquired by Radio-Canada for French Canada.