First Generation adapting Scaachi Koul essay collection for TV
The Toronto prodco has optioned the rights to One Day We'll All Be Dead And None of This Will Matter, tapping Koul to pen the small-screen version.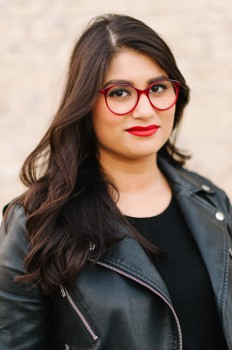 First Generation Films (FGF) has optioned the rights to author Scaachi Koul's essay collection One Day We'll All Be Dead And None of This Will Matter.
The Toronto prodco is adapting the collection as a half-hour TV comedy, with Koul (pictured) tapped to write and executive produce. The project will also be executive produced by FGF founder Christina Piovesan and VP of development and production for scripted television Mackenzie Lush. There is no broadcaster currently attached.
One Day We'll All Be Dead, which was listed on the Globe and Mail bestseller list, is a collection of essays based on Koul's experience growing up in Canada's Midwest. The daughter of Indian immigrants, Koul's darkly comic essays tackle topics such as gender politics, body image and cultural identity. Koul is a senior editor at BuzzFeed and regular contributor to publications including The New Yorker and Flare.
In a statement announcing the deal, Piovesan said she was drawn to Koul's "vivid and hilarious portrait of what it means to be an outsider."
The project is FGF's first half-hour TV comedy and also marks the TV-writing debut of Koul. FGF is also in development with CBC on an adaptation of Jeff Lemire's graphic novel trilogy Essex County as a scripted TV drama. The announcement also comes on the heels of FGF's recently completed feature film Paper Year, from writer/director Rebecca Addelman (Love, New Girl).
The option deal for One Day We'll All Be Dead was negotiated by Ron Eckel of Toronto literary agent The Cooke Agency in association with Jeff Alpern at The Alpern Group. The collection was published by Doubleday Canada in March 2017 and by Picador in the U.S. in May. In addition, it was recently published by Penguin Random House in India.