On the Slate: Item 7
After producing four features and one short in 12 months, the Montreal film prodco is turning its development eye towards scripted TV and animated projects.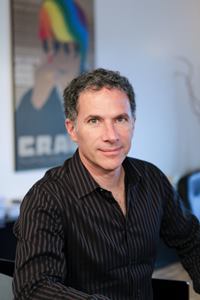 In its on-going series, Playback is catching up with Canadian production companies to discuss what projects they're working on, their production strategies and where they see room for growth. Here, we dig into Item 7′s upcoming slate.
It's been a crazy production cycle for Montreal's Item 7.
The 12-month period between March 2016 and March 2017 was a production-heavy whirlwind, president Pierre Even (pictured) told Playback Daily, busier than any year in the company's eight-year history.
During that year, five of the Montreal company's projects – four features and one short – went into back-to-back production. The first of those films, Kim Nguyen's Eye on Juliet, was followed by Bon Cop Bad Cop 2, Emanuel Hoss-Desmarais-directed Birthmarked, starring Toni Collette and Matthew Goode, and writer/director Jean-François Asselin's Nous sommes les autres. Things were rounded off in March with the short film Fareed. "Usually we're happy if we can do at least one and a half [films] a year," Even pointed out.
But the trade-off meant development was placed on the back burner.
With that marathon year in the rear-view mirror, Item 7 has turned its focus back to development, where the company is tentatively looking to branch into a couple of net-new areas of business: TV and animation.
On the English-language television front, the SVOD and OTT markets have changed the game, said Even, making the small screen something even the most film-focused producers can't ignore. "I think it's something we need to look at now because that's where the attention of the audience is."
Creating content for the ad-based structure of network television, with its regular commercial breaks, is a craft that Even said Item 7 does not have. But in ad-free TV, such as Netflix and HBO, Even sees an opportunity to break into the market.
He was inspired after a conversation with French-Canadian director, Jean-Marc Vallee. The director was in post-production on the HBO hit Big Little Lies, and noted to Even that the series is, in essence, a 350-minute film simply cut into five parts.
So Even is looking to follow a similar path, turning Item 7′s attention to creating an extra-long movie, broken into multiple parts.
Though no scripts or IP has been acquired yet, the prodco is currently looking at two properties with a view to developing them for television, though Even declined to provide details on them. Going forward, the plan is to pick one of the projects to take into full development, with the potential of building a slate in the coming years, pending greenlights.
In terms of what the company is looking for in a TV project, Even said he wants projects that "unfold like extended feature films, telling a story in a long format with a strong creative vision, both from the writer and director's perspectives."
As well, animation is an area that Item 7 has found itself moving into. The film project, Aquarica, directed by Montreal-based Martin Villeneuve (Mars et Avril), tells of a young girl's quest to save her dying planet from climate change.
It wasn't necessarily Item 7′s intention to move into producing animated fare, said Even, but the company's belief in the filmmaker and the project's animators – Belgian comic artists Benoît Sokal and Francois Schuiten – was enough to convince Even that the project was worth pursuing.
Villeneuve brought the project to Item 7 four years ago, though at the time Even declined it on the grounds his prodco hadn't done an animated project previously. When Villeneuve again pitched Aquarica 18 months ago, Even decided to move forward with it. "It's a good project so we thought 'why not?' Let's get into it and then we'll find the way to do it. Very often it's people like Martin [Villeneuve] who are so talented that we want to put our energies behind them."
Even added: "We're always looking for ways to diversify, so we're going to begin with this one and then see what happens."

It's still early days though, noted Even, who said Item 7 will begin financing the film next year. In the meantime Martin Villeneuve is continuing to work on the script, while Item 7 puts together the right creative team to pull off the feature-length project.
That isn't to say Item 7 is turning away from feature film. Also in the pipeline is The Hummingbird Project, an English-language feature film from writer/director Kim Nguyen, who had previously partnered with Item 7 on Eye on Juliet and Rebelle. The film was greenlit in May and production is scheduled to begin in Montreal in October.
The next film from director Louise Archambault (Familia, Gabrielle) is also on the docket for Item 7. Even said the intention is to shoot her next title, the French-language feature Hope, later this year, though the final pieces of financing are still being finalized.