Tribute: History's history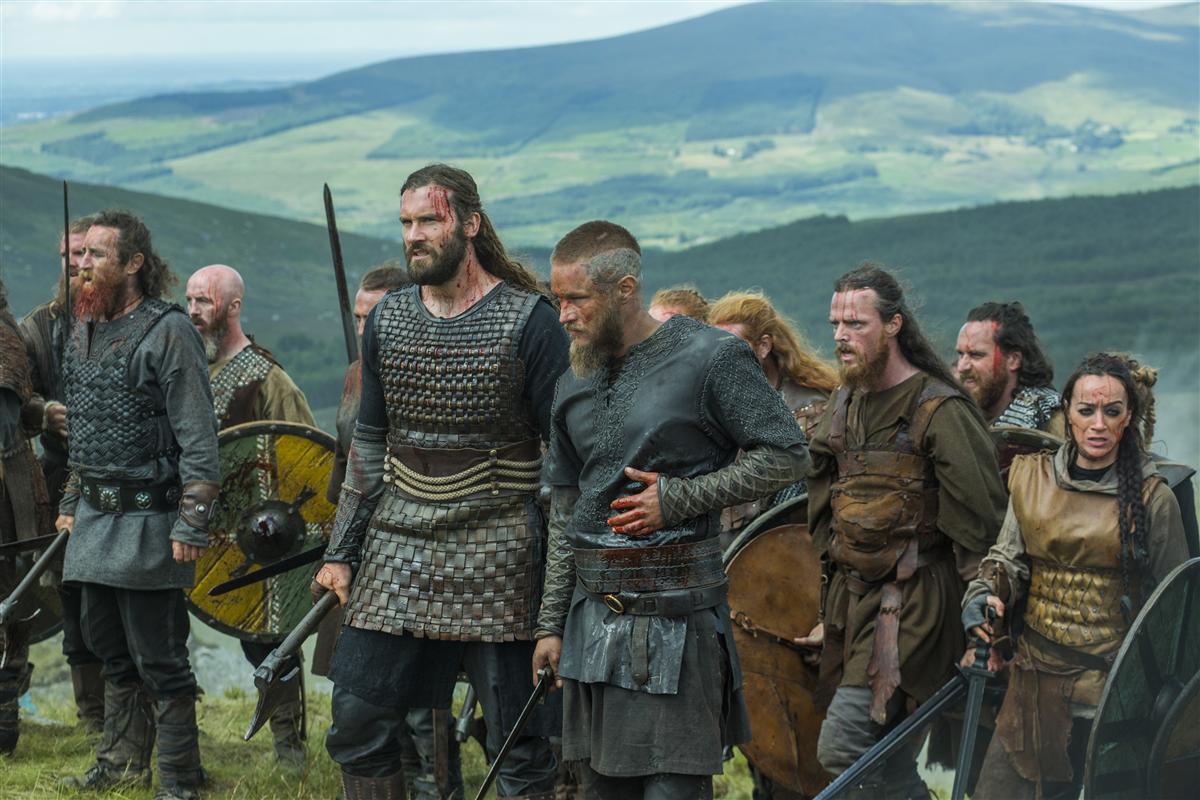 Over 20 years, the specialty shifted its focus from educational to more populist programming, and the rest, as they say is...
Twenty years in, History can lay claim as Canada's top entertainment specialty channel. And how did it get there? It can thank an import-heavy schedule that includes a Navy SEALs drama (Six) and reality shows about wilderness survival (Alone, Mountain Men), alligator hunters (Swamp People), antique collectors (American Pickers) and the daily goings-on at a pawn shop (Pawn Stars). It may not be your mom's idea of history, but viewers have responded.
History led the competition in the first three months of 2017 for audiences 2+ and 25 to 54. In that key demo, it had an average minute audience of 35,000 this spring, according to Numeris. But back in its first year of operation, the channel skewed heavily to the over-55 crowd and ratings placed it in the middle of the pack.
Daniel Eves, SVP of kids and general entertainment at parent Corus Entertainment, attributes the growth to a broader range of programs under the history umbrella.
"It was an understanding that you can see history through culture, people, and artifacts. History touches people in different ways and you can show it in various entertaining formats," says Eves, whose involvement with the channel dates back to its ownership under Alliance Atlantis.
He points to Pawn Stars, produced by New York's Leftfield Pictures and commissioned by the U.S. History channel. "It has a great historical element. The viewer learns a lot about different artifacts brought into the shop. But at its heart, it's a sitcom," he says.
This sounds very different from the mandate to which majority owner Alliance Communications (two years away from merging with Atlantis Communications) committed in its 1996 CRTC application. It was to air "historical documentaries, movies, miniseries and history programs which embrace both current events and past history, with a special emphasis on documentary and dramatic programs relating to Canada's past." The channel's prospective name was The History and Entertainment Network (H&E), which anticipated its later direction.
The group that won the initial licence were upstarts, led by Phyllis Yaffe, president and CEO of drama channel Showcase, then Alliance's only other outlet. The company had to trump a rival bid from Toronto's Labatt Communications, which owned sports channels TSN and RDS and had launched the Canadian version of the U.S. Discovery Channel. Labatt proposed a Canadian edition of The History Channel, which A&E Networks got off the ground stateside in 1995.
Among 40 specialty applicants in various genres, Labatt's bid ranked near the top with $54 million ($79 million today) promised for Cancon over seven years. Meanwhile, Alliance had some muscle in its corner with CTV Network's 12% ownership stake in H&E.
Alliance's ultimate victory likely can be attributed to the CRTC's preference for a totally made-in-Canada enterprise. The service was ordered to spend $5.7 million ($8.1 million today) on Cancon in its second broadcast year, and at least 34% of gross revenues subsequently. Prior to the Oct. 17, 1997 launch, Alliance changed the channel name to History Television.
"'The History and Entertainment Network' piggybacked too much on the Arts & Entertainment Network [brand] and wasn't distinctive enough. We wanted to call ourselves something solid that spoke to what the channel was," recalls Norm Bolen, the channel's original VP programming and first hire.
At the time, Alliance committed to annually airing 180 hours of independently produced Canadian programs, making it an important partner for documentary prodcos nationwide, which retained the foreign rights to their shows and were able to capitalize their companies thanks to History Television's commissions.
"The deluge of material thrown at us was overwhelming," Bolen recalls. "We could barely cope with it. We had to say no to at least 95% of everything that came in the door."
Turning Points of History from Toronto's Barna-Alper Productions and New Brunswick's Connections Productions was the most enduring of the early doc series, airing for nine seasons. Meanwhile, Faces of History from Edmonton's Great North Productions came back for a second season as The Canadians: Biographies of a Nation, hosted and produced by Patrick Watson.
By August 1998, the channel held on to a 0.9% 2+ audience share, putting it behind Showcase and Space (1.3%) as well as Discovery (1.1%), but ahead of WTN and The Comedy Network (0.8%). Hollywood flicks figured prominently on the schedule in History on Film, which aired the same movie seven times per week alongside context from former broadcster Ann Medina. But the CRTC was satisfied the channel was meeting its mandate and renewed the licence in 2004.
That changed, however, as Alliance Atlantis looked to boost its bottom line ahead of putting itself up for sale. Taking advantage of its 50% ownership in the popular CSI franchise and seeking the 18-to-34 demo, AA added CSI: NY to its lineup. When the Writers Guild cried "mandate breach," Alliance Atlantis assured the CRTC that the program "is based on New York-specific situations and locations, set in the city that became synonymous with one of history's most significant and notorious events, 9/11."
An unmoved regulator forced the channel to remove the show. (But by 2015 the landscape had changed so dramatically the CRTC dropped genre protection altogether, allowing Corus, which acquired the station last year, to program as it sees fit.)
Back in 2007, Canwest acquired Alliance Atlantis for $2.3 billion and needed a good return on its investment. And so, History Television ventured further from its original mandate to embrace popular reality shows.
This included the purchase of the The History Channel reality shows Pawn Stars and Ice Road Truckers. This helped mend the relations between the two channels, which had turned bitter in 1996 after The History Channel backed the failed Labatt bid.
"From our perspective [we thought], 'History U.S. is making some great content we think will resonate in our market. Let's start having conversations and see what we can acquire,'" Eves recalls. "We bought more and more of their shows and eventually they said, 'We should talk about what kind of relationship can grow from here.'"
In 2010, Shaw Communications took over the channel, and the CRTC, noting the mandate drift, asked History and other specialties to "reassess their strategies to ensure that all programming is consistent with their nature of service."
The following year the channel scored a ratings coup with miniseries The Kennedys, its first original scripted series. Produced by Montreal's Muse Entertainment, the eight-parter's two-hour premiere attracted 889,000 2+ viewers, benefitting from publicity around History U.S. backing out due to alleged pressures from the former first family.
In 2012, Shaw rebranded the channel to simply History (as The History Channel south of the border had already done) and struck an output deal with the U.S. channel yielding such current performers as the B.C.-shot Alone, which tracks 10 individuals who try to survive the wilderness on their own; The Curse of Oak Island, which follows the search for buried treasure in Nova Scotia; and Forged in Fire, a Brooklyn-filmed reality show about bladesmiths who compete with historical weapons.
The channel had become what Labatt had originally envisioned: a local version of the U.S. service. "Canadian viewers already thought we were History," Eves explains. "If something was announced in the U.S., they expected us to have it as well. We were just updating to what consumers believed we were and what we thought we could be."
The timing coincided with the start of production on drama series Vikings (pictured), a Canada-Ireland copro from Toronto's Take 5 Productions and Irish prodco Octagon Films inspired by medieval figures and legends. The show, created by Michael Hirst, is History's ratings warrior, averaging more than 800,000 viewers (P2+, 3+ airings) in the broadcast year up until March.
"Other broadcasters put in offers on the series, but Shaw was the most aggressive. We liked the Shaw creative team of Christine Shipton, Tara Ellis, and Robin Neinstein and thought they were the right partners," says Take 5 executive producer John Weber.
History in both the U.S. and Canada and international distributor MGM Television are all hands-on. "Sometimes there's a struggle between the two channels in terms of what an episode should be and the notes are pretty different, but for the most part everybody is aligned and trusts Michael's vision," Weber says. Both History channels recently aired the back-half of Vikings' fourth season while cameras rolled on season five.
War programs have long figured on the Canadian channel's schedule, dating back to early successes such as War Stories (1997-2007), featuring Lloyd Robertson introducing one-hour docs offering a human perspective on battle. And they still have a presence. Coinciding with April's 100th anniversary of the Battle of Vimy Ridge, the channel aired Breakthrough Entertainment's feature doc Searching for Vimy's Lost Soldiers.
But History has shifted much of its older-skewing war and hard history programming to History Vault, an SVOD Apple app launched last year at a monthly cost of $5.49. This follows History Go, a mobile app free to TV subscribers that provides access to the live channel, VOD, and video exclusives.
Canada's 150th birthday is also being marked. In April History launched Thank You, Canada, a series of one-minute shorts from Alibi Entertainment rolling out weekly until Canada Day. Each episode highlights a significant aspect of our nation, from Vimy to maple syrup. Meanwhile, the three-part Cream Productions doc series The World Without Canada, which speculates about the globe's catastrophic state if not for our country, debuted May 31.
Today, History is required to spend 29% of gross revenues on acquiring and producing Canadian shows. (Total revenue for 2015, the most recent year information is available, was $75.9 million.) As of Sept. 1, that requirement will be upped slightly to 30%. Eves insists the station remains committed to homegrown fare.
Most recently cameras started rolling on Bud Dynasty, a seven-part docuseries that explores the national cannabis movement, from Vancouver's Screen Siren Pictures and Toronto's Henry Less Productions.
"That speaks to something unique in the Canadian market in an entertaining and informative way," Eves says. "And we're still interested in docs such as Vimy's Lost Soldiers that speak to the Canadian story. It sits outside of ad revenues and the overall channel direction. [But] as the holder of the History brand it's important we continue to do that."