In Brief: CraveTV sets launch date for The Handmaid's Tale
Plus: Jay Baruchel takes a CCO role at a Toronto-based publishing company and Digital Howard's CMF-funded game Terracosm heads to U.S. science centres.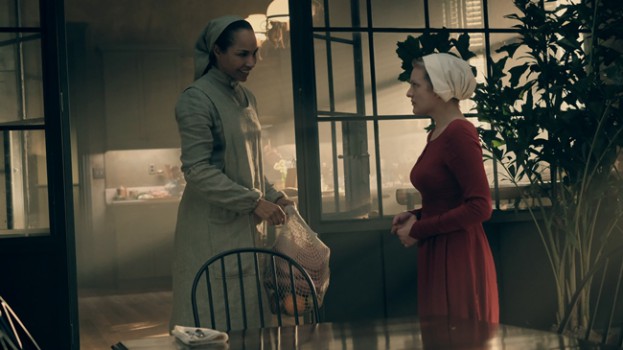 CraveTV sets debut for The Handmaid's Tale
Following a record-breaking first-season run on Bravo, the Elizabeth Moss-starring drama The Handmaid's Tale (pictured) is headed to CraveTV on July 28. The 10-part series debuted on the Bell Media linear channel on April 30 to an average audience of 793,400 viewers (2+), according to Numeris data. The ratings haul made it the most-watched broadcast in Bravo's history, according to Bell Media. The MGM-produced series, which is adapted from Margaret Atwood's novel of the same name, is shot in Toronto at Cinespace. The show was renewed for a second season in early May.
Baruchel joins Chapterhouse Publishing
Jay Baruchel's busy schedule just got a little busier. The actor/producer/director has joined Toronto-based comic book publisher Chapterhouse Publishing as an investor, owner and chief creative officer. In the role, Baruchel will develop Chapterhouse titles for the screen. "What started with a conversation about bringing Captain Canuck to the big screen very quickly evolved into my asking Fadi [Hakim, CEO] if I could invest in Chapterhouse," said Baruchel in a statement. Chapterhouse Studios, the production arm of the company, is also behind the Captain Canuck animated web series, based on the comic book created by Richard Comely in 1976. Baruchel most recently directed and starred in Goon: Last of the Enforcers, which was released theatrically in March.
Digital Howard takes Terracosm south
Terracosm, an app-based gaming experience created by Toronto-based Digital Howard, has been placed in three science centres across the U.S.: the Arizona Science Center in Phoenix, the Sci-Port in Shreveport, Louisiana, and COSI in Columbus, Ohio. The sci-fi game, is designed to entertain children at the same time as encouraging learning in STEM fields through the augmented and virtual reality gameplay, is told through a comic book style narrative. The project is created by Daniel Dales, Jarrett Sherman and Matt Wexler and was produced with the financial support of the CMF's Experimental Stream.