Animators step out of the (service) shadows
With international demand for animation riding a sustained high, a growing number of service-based companies in Canada are cracking into the arena of original IP.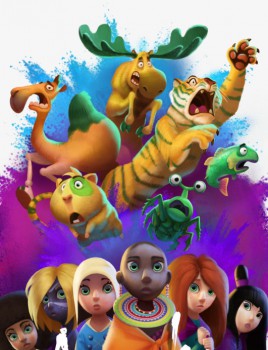 Historically, Canada has boasted an impressive track record of churning out high-quality proprietary content. In the '70s and '80s, animation powerhouses Nelvana and now-defunct Cinar helped spearhead Canada's ascent to becoming the world's second-largest exporter of animated content, behind only the U.S. Since then DHX has also grown to become a behemoth in the kid-con space.
But in recent years the landscape has altered dramatically for domestic animation firms, both on the film and TV side. At home, the number of commissions is declining, meaning producers are forced to look internationally for financing to get projects off the ground. At the same time, the SVOD machine has created unlimited shelf space and sky-high demand for new content.
Against this backdrop, service-based studios like House of Cool are sensing the time is right to break into a new line of business: original IP.
Whereas once it was perhaps but a few Canadian animation houses with deep-enough pockets to produce originals, a perfect storm of a low dollar, the ever-expanding SVOD pipeline and stable tax incentives has given rise to a highly skilled domestic industry looking to expand its service-centric horizons, says Wes Lui, co-founder of Toronto-based pre-production studio, House of Cool.
What's more, the costs associated with producing animated fare – and increasing demand for mid-budget films and series – is also giving more companies a path into the market.
"When I started in this industry in 2004, it was always about access to capital. But it hasn't really been [until] the last year or two that access to capital has been a viable possibility," says Lui, who is also the co-chair of Computer Animation Services of Ontario (CASO). "Making a feature film previously meant you needed to have $100 million, and no one is going to have that. But now, you can make a film for $20 million or less."
House of Cool, which specializes in storyboard services, cut its teeth on global blockbuster hits, including the Ice Age franchise and Book of Life. Established in 2004 by co-founders Lui and Ricardo Curtis, the studio has since amassed a team of almost 50 artists, gradually building a wealth of expertise in both the technical aspects of animated pre-production as well as the wheeling and dealing required to get projects from earliest-stage development through to completion and release. Working on some of the world's most lucrative animated franchises has also nurtured working ties with the industry's heavyweights, from Disney and Pixar to The Weinstein Company and Netflix.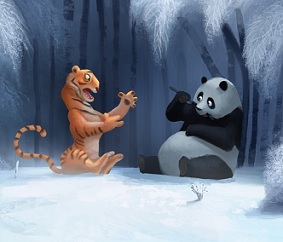 Among the in-development projects on its slate is Amoeba, a USD $21 million feature coproduced with UTA in the U.S. and French animation studio TeamTO. Jamie Dornan (Fifty Shades of Grey) recently signed on as executive producer and lead.
The studio landed its partners on Amoeba after it became the first Canadian project to present at Cartoon Movie, a European pitching forum for in-development films. An increased presence on global markets and the animation scene is part of House of Cool's strategy, as the studio looks to position itself as an IP creator as well as a service provider, says Lui. The prodco is currently in the process of signing distribution deals for the film, with the primary goal of a theatrical release.
In addition, House of Cool is partnering with Toronto company Copperheart Entertainment on Night of the ZOOmbies, based on Clive Barker's graphic novel of the same name.
Lui and Curtis currently devote about 75% of their time to original or coproduction-based IP, while the company's artists still spend almost 100% of their time on service-based projects, says Lui. If and when work begins on its originals, House of Cool plans to devote 35% of its resources to proprietary IP (with the remaining 65% to service work) and build toward an eventual 50/50 split.
With three films currently in development the company wants to build gradually, taking on a manageable number of projects at any one time to ensure too many eggs aren't placed in the IP basket, Lui says.
"Previously studios would do service, where you have your profit margin and that's it," he says. "But now I can only name a few that are doing service and not getting into their own IP."
And while the distribution pipeline is an altogether different beast on the television side, service-oriented TV companies are also eyeing an expansion into original content.
Such was the case for Kelowna, B.C.-based Yeti Farm Creative, which has set it sights on IP ownership after eight years on the service side.
Founded a decade ago by Ashley and Todd Ramsay, the studio (which specializes in 2D and CG animation) honed its craft on series such as Teletoon's Rocket Monkeys and Netflix's Beat Bugs. Growing from five staffers in 2007 to 120 in 2015, the Ramsays felt they had amassed the creative clout to transition into original content.
Yeti Farm's initial investment in IP came in the form of a digital-first animation production and distribution division, YetiLABS, as well as a new 7,000-square-foot studio dedicated to creating proprietary content.
This was followed with an investment in C-suite firepower, as the company brought in industry veterans Blair Peters (George of the Jungle), a former partner at Vancouver's Studio B Productions, and Lance Priebe, co-founder and creator of online gaming world Club Penguin, to handle the YetiLABS slate.
In late 2015, the company debuted Sweet Tweets and Knobs on YouTube and has more recently gone into development on five projects including Kick Flip, an animated series about high-profile female athletes and influencers in the world of skateboarding.
"For us, service work provides a range of opportunities to build strong relationships, grow our partnerships, work on great shows and to flex other creative muscles to create our own original work," says Ashley Ramsay.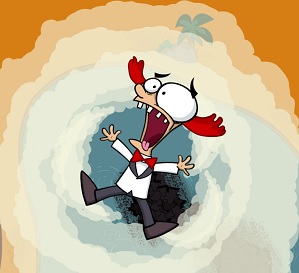 And if you're looking for a company that has successfully managed the service-to-IP transition, look no further than Toronto's 9 Story Media Group. After building a sufficient financial cushion on series such as Peep and the Big Wide World (TVO) and Jacob Two-Two (YTV), the company reinvested those service-won profits into original projects such as Best Ed and Futz!, which both aired on Teletoon.
"From an economic standpoint, owning and controlling the content requires investment, requires a balance sheet, requires financial stability – and when we started as a company, we were small," says Vince Commisso, co-founder, president and CEO of 9 Story Media.
Through a combination of organic growth and its 2015 acquisition of Irish CGI-focused animation studio Brown Bag Films, the company has grown to 600 staffers, up from a 70-person team in 2006.
In terms of 9 Story's Canadian operations, Commisso says today, about 60% is focused on original projects, which include Daniel Tiger's Neighborhood, Wild Kratts, Numb Chucks and Peg + Cat.
9 Story has also ramped up its distribution efforts in a bid to maximize the reach of its originals. In addition to its long-held Canada-based distribution business, the company launched a second distribution outfit based out of Brown Bag's Dublin facility in October 2016.
Those efforts, combined with a development-intensive year in 2015 has led to a number of commissions from buyers outside of Canada, says Commisso, including Netflix's The Magic School Bus reboot, set to launch later this year. A number of other series developed during this phase in 2015 will begin launching on international SVOD platforms later this year, he adds, though he remained mum on details.
And while it is more common for companies to move from service work into original IP, the strategy can also work in reverse. Toronto animation house Portfolio Entertainment, which had previously been focused exclusively on proprietary properties, has started chasing service-based opportunities since it became a studio owner in 2014. CEO and co-founder Joy Rosen says the 26-year-old company saw a lot of service cos moving into original IP and realized Portfolio must diversify also by moving in the opposite direction.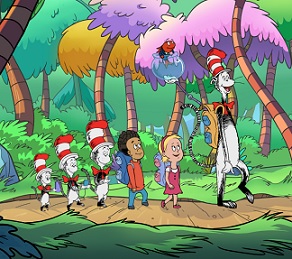 Part of the reason for this, says Rosen, is that the company would find itself waiting on the availability of certain studios that could service its original content.
"We didn't want to have to stand in a queue, or use a B team because the A team was working on another production," says Rosen.
Since it got into the studio business three years ago, Portfolio has shifted through the gears quickly, growing its team to more than 80 employees (from six when it launched) with the goal of growing to 105 by summer. Currently Portfolio splits its time approximately 50/50 between IP and service.
Rosen notes that moving into studio ownership allowed the company to significantly ramp up its original-production efforts, with work on 20 new episodes of The Cat in the Hat Knows a Lot About That (PBS and Treehouse), DOKI seasons three and four (Discovery LatAm) and the new series Amazing Hero Academy all currently underway.
Service work has allowed Portfolio to retain more high-quality animation artists on a long-term basis and expand its development slate, which, with four projects in funded development and another eight on the go, is significantly larger than in previous years. While the goal isn't for service work to be the company's primary focus, "we're looking at it as a nice addition to our own IP," Rosen says.
It's all about finding a balance for many of these companies: while service work helps pay the bills, an increasing number of Canadian studios are viewing original IP as a long-term path to sustainability. And while focusing exclusively on one side of the track is by no means a recipe for failure, many companies in Canada are looking to find a more even footing with a mix of the two.
"We're excited to be moving in [this] direction," says Yeti Farm's Ashley Ramsay. "We have great stories to tell and we now have the team to bring the stories to life."
This article originally appeared in the Summer 2017 issue of Playback.