Jumping into bed with competitors, and 4 other Banff takeaways
Do network brands even matter any more? What content is selling globally? Five insights from the top media execs from around the world.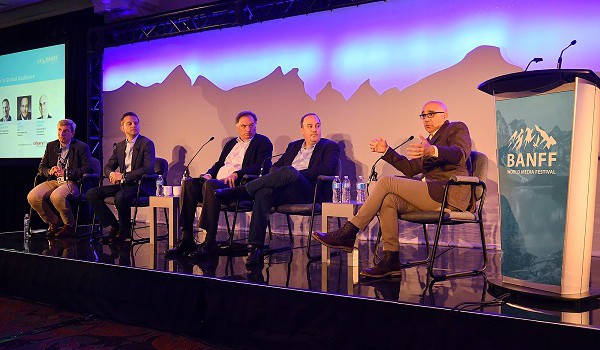 By Jordan Pinto and Regan Reid
It was a jam-packed four days at the Banff World Media Festival, full of panel presentations, master classes and (a few) cocktails. Between the keynote presentations and schmoozing, a few key lessons for the media industry emerged.
You've got to work with your frenemies: Netflix, Amazon and the other big global OTT platforms were mentioned in virtually every panel discussion, with broadcasters largely agreeing that to compete with the premium quality content they deliver, they must partner with these disruptive competitors. But more broadly across the media landscape, it's becoming increasingly smart business to jump into bed with your competitors. "The [media] world has become so complex that you're partners and rivals with just about everyone," said Sean Cohan, president, international and digital media at A+E Networks. When the large streaming players first emerged, there was a great deal of trepidation on the part of traditional media cos around whether they should be partnering with emerging platforms. Now, with Apple, Facebook and Snapchat all poised to enter the scripted space, the consensus seems to be that partnering early is the smartest play.
IP ownership a key to success: Insight Productions' John Brunton wasn't the only one at Banff to argue that renting content isn't a good long-term strategy. Executive managing director of international at A+E Networks Edward Sabin said the group of channels knew very early on the value of IP ownership and creation, with the company ultimately owning 95% of its unscripted programming to then sell to the world. When it dipped its toes into scripted programming, however, it began by licensing content like Vikings and Hatfields & McCoys. To grow it's scripted  business, however, A+E took head of its unscripted strategy to  maximize control and profitability. "We formed a scripted studio a couple of years back, which gave us the ability to have a creative partnership with the production community and ultimately an ownership in the content," he said. John Morayniss, CEO of eOne Television said because his company wants more control of its content, it's focusing more of its efforts on development. "If I look at where we're taking more risk it's on the development side of our business. When it comes to financing projects, that's where we're developing partners, but [the content is] something that we control and own. That's why, in some ways, I'd rather lose and fail in development, [but when we get it right] then we can bring in the partners to spend money to make a premium content show."
Authenticity and specificity sell: You might have heard it before, but the industry is not done saying it: strong, unique voices with specific points of view will sell worldwide. It was a common refrain across panels, with showrunners, exec producers and buyers all arguing that now, more than ever, to break out in a crowded TV space, audiences demand authenticity. eOne's TV's COO Jeff Lynas told delegates at the Building Partnerships for a Global Audience panel that, "the more unique the vision and the passion of the creator, the better chance that show has with us of moving forward and getting sold," pointing to two Canadian eOne series, Private Eyes, which airs in more than 110 territories; and Cardinal, which recently sold to France, the U.K., Spain and Scandinavia. In addition to a strong vision, the more specific the show the better. "There was a period when we were trying to be everything to everybody and trying to mimic American shows," said New Metric's Mark Montefiore during the Revitalization of Canadian Comedy panel, and by doing so, "we weren't hitting anybody at all." Letterkenny, with its very distinct southern Ontario setting and characters, however resonates across the country because audiences can identify with it's "authentic stories" (there's that word again), he said. eOne's Morayniss echoed this sentiment, and added that the U.S. market is finally opening up to foreign language shows but specificity of theme and location remain important.
Need to open the system to new voices: With the official launch of Canada's first Indigenous Screen Office, many of the country's broadcasters and funders have banded together to attempt to tackle the issue of Indigenous under-representation in Cancon. But, as those who attended Tuesday's Indigenous Creators roundtable heard, the real work begins now. The roundtable was an open discussion led by Kistikan Pictures president Tina Keeper. Speakers told broadcasters they need to forget their programming mandates and take a chance on Indigenous stories and talent. The resounding message was that Indigenous showrunners must be given more control over the direction of the storytelling and that producers, broadcasters, funders and distributors must be willing to now put greater financial backing behind telling Indigenous stories helmed by Indigenous creators or risk repeating the same mistakes of the past.
Do network brands matter? An interesting debate took place during the Global Audience panel, with Liberty Global's SVP of programming Bob Leighton arguing series, not channels, matter more to consumers today. "There seems to be a shift toward programs as the currency of consumption, giving rise to a challenge for channels," he said. People count down the days to watch Riverdale, for example, but are less concerned that it's a CW series (especially in Canada when they can watch it on Netflix). A+E Networks Sabin offered a counterpoint, however, arguing that it's a mistake to under appreciate the importance of a brand that is clear and defined in audiences' minds and one that caters to their needs. Raja Khanna, CEO of television and digital at Blue Ant, added in the Strategies for Success in a Multi-platform World panel that the impact of SVODs like Netflix, which provide a dizzying amount and variety of content, has been to force channels to focus on their brands and what they stand for. "Cottage Life, BBC Earth, it's clear what these brands stand for. I'd say Netflix is making us do a better job for our brands," he said.
Photo: Building Partnerships for a Global Audience Panel; photo by Kristian Bogner