Banff '17: JP Blais' last stand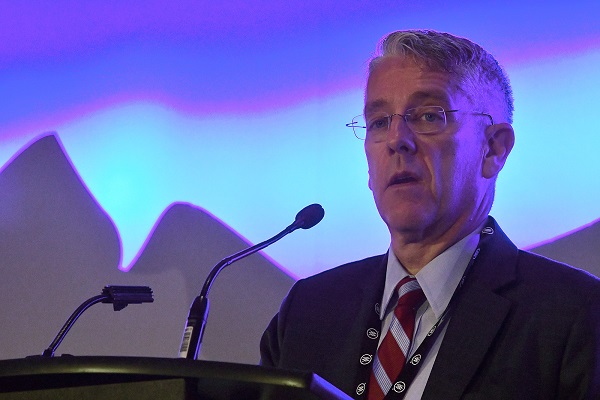 The outgoing CRTC chair didn't mince words when he tackled the CBC, broadcasters and the government.
With exactly three days left in his term as chair of the CRTC, some at the Banff World Media Festival may have expected (or perhaps hoped) that Jean-Pierre Blais would make an announcement during his breakfast keynote Tuesday on the future leadership of the regulatory agency.
But, alas, it was not on the agenda. While the Canadian Press has reported that Blais has not reapplied for the CRTC chair position, the CRTC itself has refused to comment, Canadian Heritage Minister Joly told Playback Daily simply that "we'll have a CRTC chair, that's for sure" and the man himself made no mention of a successor during his speech. The industry, it seems, will just have to wait and see.
In the meantime, however, Blais took one last opportunity to speak his mind to a room full of industry members, arguing the Canadian broadcast industry and cultural sector need to break with the status quo or risk continuing on "a death march."
The future is broadband, he stressed (as he did in a Q&A for Playback's summer issue) – and the broadcast and media industries better get with the program.
"[The] thinking in government and indeed in industry—in this room—is still flawed. It's focused all too much on traditional divisions between broadcasting and telecommunications. On the status quo as an operating principle," he said. "That's not the future. Broadband is. Apps are. Quotas, tax credits and the way we all did business 20 years ago are not. They're anachronisms."
Blais scolded broadcasters and cultural organizations for not attending telecom public hearings or proceedings. "It's hard to ignite broadcasters' passions for something as apparently dry as access to broadband. Pity," he said. The CRTC isn't discussing obscure regulations in these proceedings, he said, but rather, it's "laying the groundwork for the technology that will bring the services, programs and content you create to the world."
Stop focusing on tax credits and copro treaties, stop squabbling over legislation – think different, he said. Different how? Maybe it's time for the government to "get out of the cultural sector's way," he proposed.
Blais' next target was the CBC, stating that in an age when there is more distrust in the media than ever, the CBC must be accountable to the public for trustworthy news and programming. "It must apply the trusted news source lens to all of its activities. That is, it should focus on news rather than commentary. It must stop chasing clicks, and it must always publish verified stories from credible sources," he said, seemingly referring to the backlash the CBC received from some other news organizations for launching an "Opinion" tab on its news website.
He then suggested the CBC use the profits of its recent sale of its shares in Sirius XM Canada to support its journalistic efforts. "By our calculations, CBC will get approximately $58.8 million from that sale. These and other ideas will doubtless come to the fore when the CRTC considers the CBC's licence renewal," he said.
Last, but certainly not least fervently, Blais had a few words for the government itself. While he suggested that there may be a time that the government should get out of the culture sector's way, until then, Joly's September release of her cultural policy framework can't come soon enough, he said. Blais argued, in fact, that it's already taken too long. "Not knowing in which direction the government is heading creates uncertainty for everyone: us at the CRTC as well as you in business," he said. As for the review of the broadcast and telecom acts announced in Budget 2017, those must have clear objectives and timelines, he said. "Anything less creates years of further uncertainty. A window for endless lobbying and sterile debate."
But his harshest criticism came when discussing appointments to the CRTC. There are currently three vacant positions in the agency – positions which are appointed by the federal cabinet. "Why is it that the CRTC is without a permanent vice-chair of broadcasting since November 2015? Why has not a single commissioner been appointed on a permanent basis since October 2015? This is just bad governance," he said.
Looking forward, he said, he hopes the CRTC is granted more independence and appointees are given longer terms. "The role we perform now is profoundly significant. It always has been from a logistical and cultural point of view, but its role will be even greater in the broadband age."
Photo by Kristian Bogner