Banff '17: Breaking down the techy future of content
Between voice search, AI and Facebook commissioning scripted content, media leaders assess technology challenges and opportunities on the horizon.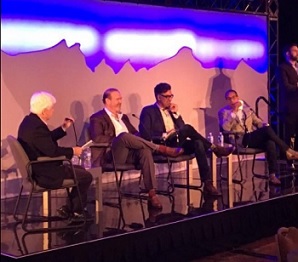 With the perhaps unprecedented rate of change in the media landscape, much time at the Banff World Media Festival has been devoted to looking ahead. In particular with regards to data and the increased importance of technology on the media sector.
On the data front, the conversation at the festival has centred largely around who has it, who's hiding it and how greater information exchange between creators and their distribution platforms can benefit both parties. On the tech side, the expected arrival of Facebook and Apple has been the subject of much debate, as creators, producers and distributors at all levels of the chain take stock of the current landscape.
Monday's Digital Innovators in the Content Industry panel, featuring CBC's executive director of digital strategy Richard Kanee, Roku's director of content acquisition Ziba Kaboli-Gerbrands, Rogers Media's SVP of sales Alan Dark and Boat Rocker Media's chief revenue officer Michel Pratte, looked to what was next in the digital space, while Tuesday's Strategies for Success in a Multi-platform World panel, featuring Blue Ant Media's CEO of television and digital Raja Khanna and Lionsgate's president worldwide TV and digital distribution Jim Packer, reflected on the potential impact of new content giants entering the space.
When asked for a prediction on what the next thing on people's radar should be during the Digital Innovators in the Content Industry panel, Kanee and Kaboli-Gerbrands landed on the same answer: conversational interfaces. Or, put another way, speech technology that allows users to search for content by speaking with their devices. "If this isn't on your radar as content producers – it should be," said Kanee.
Roku, which last year alone clocked up nine billion hours of streaming time globally, identified conversational interface as a key area for investment and research, said Kaboli-Gerbrands. Roku currently has conversational interface on its platform, though the company wants to get ahead of the curve by doubling down on its existing artificial intelligence-powered voice search functions to make the AI more readily able to process natural speech. Without going into specifics, Kaboli-Gerbrands said Roku is looking to integrate conversational interface further into its user experience.
Programs such as Alexa and Google Home will sooner rather than later become an integral part of the discoverability equation, Kanee noted. "From a discovery perspective…it's going to be the primary way [audiences] engage."
As a result, said Kanee, content creators will need to start thinking about how they are tagging their content so that it will surface during the course of an interaction between the user and the AI.
Another much-discussed point has been the supposed arrival of Google, Facebook, Apple and Snapchat into the scripted content space with Bell Media's Randy Lennox on Sunday telling audiences at the Canadian Media Leaders panel that Mark Zuckerberg's company has 56 scripts currently in development.
ABC Studios president Patrick Moran told Playback Daily the U.S. producer is already in preliminary discussions with both Facebook and Snapchat. "The conversation has started, but it's very early," he said.
Another potential upside in the arrival of the likes of Apple and Google to the content game, said Packer, could be the reduction of online piracy. "The one thing I'm excited about in piracy is that the tech companies are all going to be motivated at some point to protect their own content," he said during Tuesday's Strategies for Success in a Multi-platform World panel. "There can't be any better companies to figure out a way to stop [piracy]," he said.
Khanna countered that, saying that while there will always be a degree of online piracy, the current percentage is too high. Two simple facts are driving this, said Khanna: audiences aren't seeing value in a certain piece of content and they have no easy way to access it. Khanna pointed to the music industry and how it eventually worked out that consumers were willing to pay a monthly fee to have access to the music they wanted. The challenge now, he said, is working out where that price point is.