Banff '17: AMPIA, China's Guangdong province partner
The provincial association aims to increase copro opportunities and open up a potential market of 120 million viewers for Alberta producers.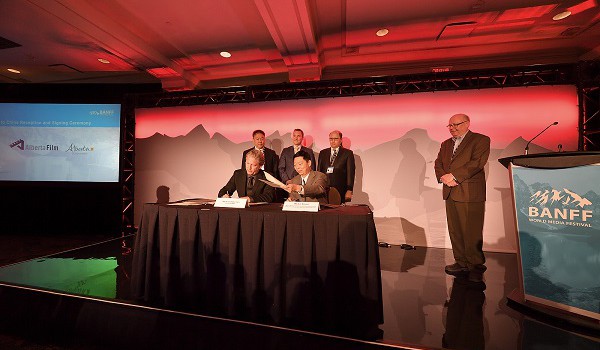 The Alberta Media Production Industries Association (AMPIA) and a delegation of cultural officials from the Chinese province of Guangdong have signed a memorandum of understanding (MOU) to support coproductions and export between the two regions.
AMPIA chair Michael Jorgensen and deputy director-general of Guangdong's Administration of Press, Publication, Radio Film & TV (APPRT) signed the pact at the Banff World Media Festival on Monday.
"China is more and more becoming a leader in the film and entertainment industry worldwide and a major competitor to Hollywood," Missy Geffen, AMPIA vice-chair, North told Playback Daily. "The signing of this MOU is an opportunity for Alberta producers to partner with producers in Guangdong province to collaborate on projects and to have access to a market of over 120 million people."
The MOU comes just a few weeks after Alberta's premier Rachel Notley signed a sister-province agreement with Guangdong to increase trade and investment between the provinces. According to the government of Alberta, Guangdong represents 25% of China's imports and exports and receives approximately 20% of Canada's exports to China. 
Photo: Kristian Bogner