2017 Indie List: The year in review
Through the ebbs and flows of another (typically) unpredictable year in the world of Canadian content production, Playback gives you an inside look at who's spending what and where.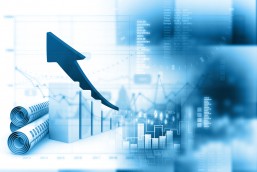 Through the ebbs and flows of another (typically) unpredictable year in the world of Canadian content production, Playback gives you an inside look at who's spending what and where, and explores the industry's general consensus on headaches and opportunities. As with every year, the survey is based on voluntary submissions, with the total amounts representing the combined sum of production and development spending in the 2016 calendar year.
This year we've also gone in-depth with some Indie List movers and shakers to talk about the business adjustments they made in 2016 to give their companies the best chance of flourishing in an ultra-competitive marketplace. (Check out our Start, Stop, Change profiles as they roll out later this week). For everything from fresh development mandates to tweaked production approaches, focuses on new markets to engineering new ways of winning domestic eyeballs, we dug beneath the surface to unearth what producers did, why they did it and the impact they hope it will have on business going forward.
Read on to see how the production industry fared this past year and what it hopes for next.
A quick start
It didn't take long for things to get dramatic in 2016. Thirteen days, to be exact. On Jan. 13, news of Corus Entertainment's acquisition of Shaw Media broke and the industry's attention was turned back to broadcaster consolidation. That will likely be 2016′s legacy, alongside Canadian Heritage Minister Mélanie Joly's nationwide consultation on cultural industries, the loss of shomi and the CRTC's introduction of flexible pricing options and skinny basic channel packages.
So, with these key events in mind, what was the prevailing sentiment about the opportunities for independent producers?
Well, it seems confidence has fallen over the past 12 months, with the number of companies saying their prospects are "the same" dropping to 45%, from 49% in 2015, and those who feel the opportunities for Canadian producers are "worse than ever" climbing to 39%, from 21% last year.
It isn't all doom and gloom though: business expansion is still top of mind for many indies, with 60% of survey-takers saying they plan to expand their business in the year ahead, though that is down from 76% last year.
But most promisingly, the number of companies that see the biggest opportunity in exploiting new IP has jumped from just over a quarter in 2016 to close to half now.
THE BREAKDOWN
Opportunities for Canadian producers are….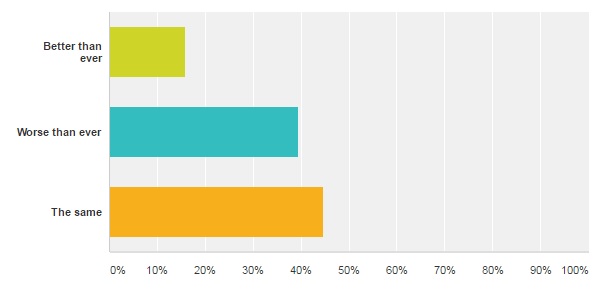 Who's jumping the list?
Among the more notable chart-climbers was Burnaby, B.C.-based Bron Studios, which took its executive-producing game to the next level, partnering on a number of high-profile U.S. feature films, including Paramount Pictures' Fences. The company leapt into the #2 spot (previously in the #11 spot), after more than doubling its production and development investment from 2015. It also continued to inch its animated feature Henchmen toward completion and headed into production on sci-fi feature Parallel, the first project made via its horror-centric sub-label The Realm.
Also gaining ground with a stacked production slate and a year-over-year increase of $17 million was Muse Entertainment, jumping to #4, from #9. In 2016, the Montreal indie cleared $86 million in production spending with a slate composed of high-end scripted fare such as Bellevue (CBC) and miniseries The Kennedys: After Camelot (Bravo) and anchored by the company's perma-strong raft of MOWs.
Meanwhile, landing in the top 30 for the first time was Peacock Alley (#15), which partnered with Netflix on the hour-long sci-fi series Travelers, while Item 7 returned to the list, jumping into the #23 spot with a healthy feature roster including Bon Cop Bad Cop 2 (with Jessie Films) and Birthmarked, directed by Emanuel Hoss-Desmarais.
The biggest opportunity for my business in the year ahead is: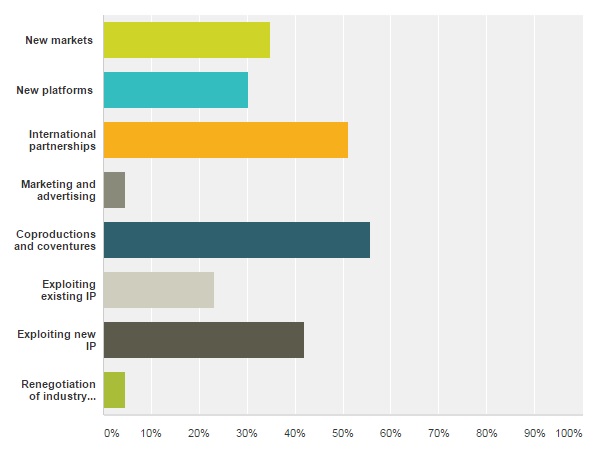 More dollars dropped on development
There was also a noticeable increase in development spending this year. At the top end, eOne's development spend jumped to $11.7 million in 2016, up from $8.6 million in 2015, while Boat Rocker's more than doubled to $1.27 million (from $500,000 in 2015) and Muse's almost quadrupled to $1.1 million (from $293,000 in 2015).
John Young, CEO of Boat Rocker, says the company began self-funding a larger proportion of its development in 2016 to give the Toronto media co more control over both the schedule and process of developing proprietary IP. With early stage participation in original content in mind, the company also inked an exclusive development and production deal with writer/producer Adam Barken (Killjoys, Flashpoint) in late 2016.
Bron also doubled its development investment to $1.65 million, from $717,000 a year ago, while Breakthrough dropped $798,000 on developing its slate, compared with $494,000 in 2015.
And of course, these increased investments could become greenlights and production dollars on next year's list. Overall, 39% of companies said they have more than 10 projects in development.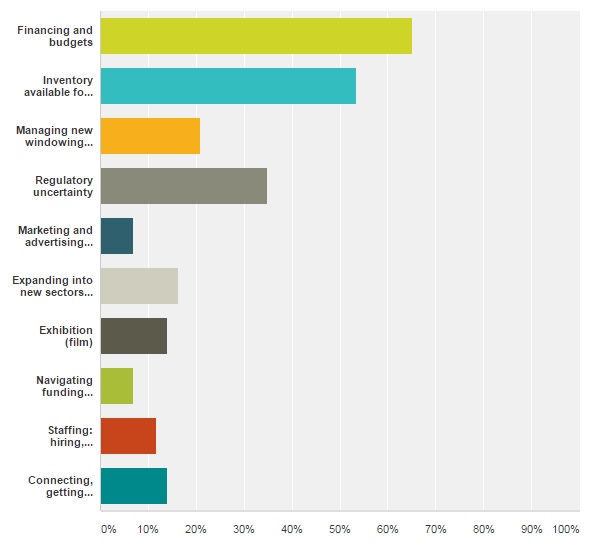 Shrinking budgets, Shelf Space
"The biggest challenge across the board is the lack of shelf space in Canada," says Jordy Randall, managing partner and executive producer at Calgary's SEVEN24 Films. "The industry can produce far more quality content than can currently be, or is being, licensed by
Canadian broadcasters."
More than half of respondents (53%) said the inventory available for Canadian programming on Canadian channels is a challenge for them, compared with 35% in 2015 and just 27% in 2014.
Given the industry's capacity to produce content currently outweighs the broadcasters' capacity to license it, we'll likely continue to see indies seeking their commissions/co-commissions in other markets.
Seeing growth in copros
Continuing a trend seen in recent years, Canadian companies pointed to international collaborations as the greatest opportunity for businesses going forward. Of the companies polled, 56% said coproductions and coventures were one of the biggest opportunities, while 52% said international partnerships.
Things to note
As with last year, Lionsgate is again absent from the list due to the fact that almost all of its spending and operations are based in the U.S. As well, DHX Media has been left officially unranked, as it declines to confirm its spend. DHX figures represent an estimate based on its quarterly reports via line item "direct production costs and expenses of film and TV produced. The company's spend is an estimate, which do not reflect financial instruments such as funding or tax credits. All other totals are based on figures voluntarily submitted by production companies. Force Four and Paperny spend also included in eOne spend; listed separately for clarity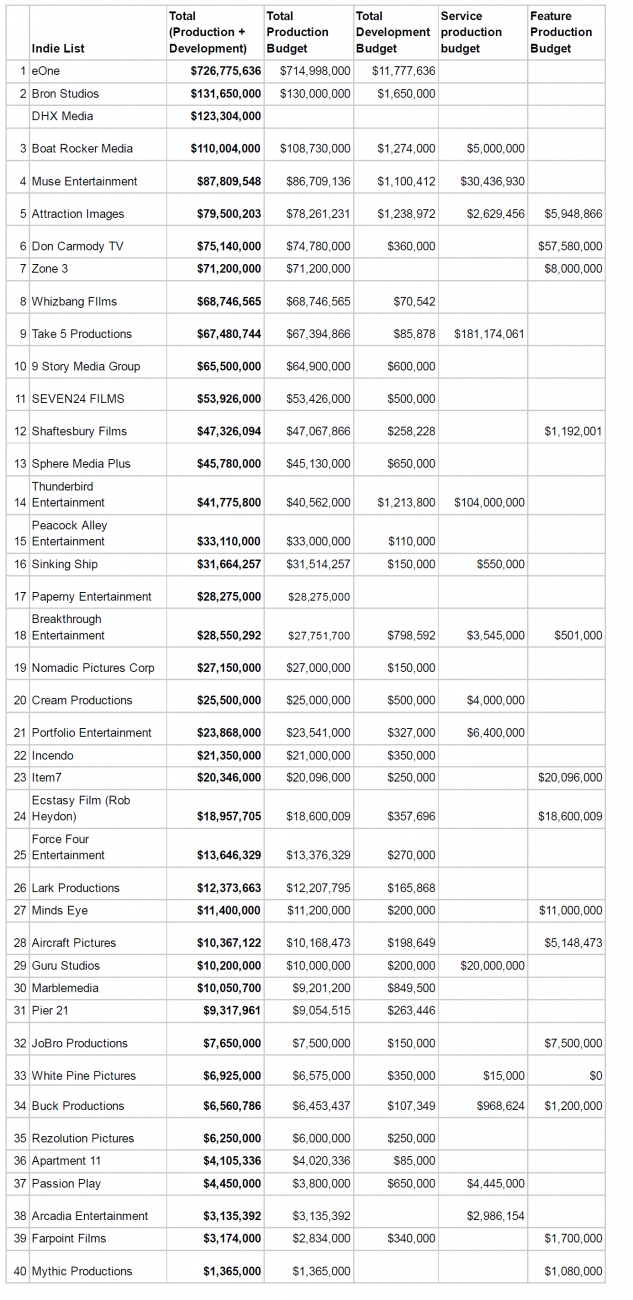 Many thanks to all those who submitted surveys for the 2017 Independent Production List