Let's Talk JP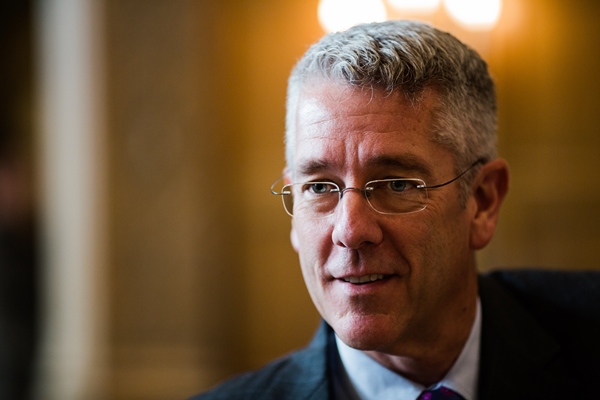 Playback magazine caught up with Jean-Pierre Blais to talk big decisions during his five-year term as chair of the CRTC and how he envisions the future of TV.
Jean-Pierre Blais's five-year term as chair of the Canadian Radio-Television and Telecommunications Commission comes to an end on June 17. And while it's yet unknown if he'll return for a second term (only one chair has been reappointed since the CRTC was launched in 1968), one thing is certain: Blais is a polarizing figure in the Canadian TV industry. From Let's Talk TV to CIPF and pick-and-pay, Blais' tenure was not without controversy. Playback caught up with the man himself to reflect on his term.
Playback: Let's talk Certified Independent Production Funds changes. The CRTC said one of the goals was to provide more flexibility to produce content that can sell in other markets. The decision to reduce the number of Canadian certification points for a production to get funding to six from eight was pretty heavily criticized by some in the industry-
JPB: [By] parties that didn't even show up to the hearing to make their points known, by the way! I'm a bit surprised you're focusing on that particular decision because I wouldn't even consider it an important matter in my tenure at the CRTC.
PB: Why were the changes necessary?
JPB: It was well-communicated to everybody that we were going to take a different approach because the quotas and restrictive regulations that may have worked in the '80s and '90s, weren't going to [cut] it in a in a world where it's all about broadband and choice. [Broadband is] the future we have to get ready for, which means our products have to compete with content that's coming from everywhere in the world. But by the same token our content can go everywhere in the world. That's the opportunity we have to seize.
PB: On the matter of choice, pick-and-pay and skinny basic were rolled out last year. Are you pleased with the results?
JPB: There are some who would like us to be prescriptive and paternalistic and say everybody should get this or that in their cable package. We said instead, "These are the rules you have to play by and in the end it's the consumer that will decide."
The commission's policy was to empower Canadians and the middle class itself to decide what they wanted in their house and not [leave it up to] the cable companies, which had made these huge basic packages, for reasons including vertical integration, that were outpacing inflation at one point.
What we wanted to do is to provide more empowerment to Canadians. If they decide to go with a [cable] provider, rather than over-the-air or SVOD, they can [now] choose what makes sense with their budget. The average family in Canada is paying $285 per month for communications services.
[Ed note: Blais was more forthcoming at a September public hearing, saying "some Canadians have told us clearly that they are not satisfied with the way the new choices have been implemented." And in November, most TV service providers learned they will only get a one-year licence renewal as opposed to the usual seven, allowing the CRTC to "closely monitor" BDUs' practices.]
PB: How do you envision the future of television and broadcasting in this country?
JPB: It's a future that's marked with more reliance on broadband connectivity as opposed to traditional distribution, a future that is based on more mobility, on less scheduled programming and more on-demand. All that means [that it's] a much more open space where we're competing internationally, which is why the Commission in its decisions early on said that we had to move away from a protectionist agenda towards a "promotionist" agenda.
What we really have to focus on is exporting [our] content to the world because the Canadian population is not going to grow. If you want to grow the pie, you're going to have to sell it to foreign markets – that's the future. We have tremendous assets in Canada. The various funding programs is a competitive advantage, but on top of that we have top notch crews, creators, actors, writers and directors. We can operate not just in the two official languages, but as well in all the languages that Canada's diversity brings. That's a strategic advantage we can leverage to go well beyond Canadian borders.
It's a more open future, based on promotion and trying to leverage discoverability. We held the summit on discoverability [to discuss] how we can get Canadian-made productions – you see I'm trying to avoid words like "Canadian content" because that is old thinking – to Canadians and the world stage. That is a fundamental change of direction on how we look at [content].
You referred to the kerfuffle about the CIPFs, that is an example of people who are more comfortable in, might I say, ostensibly their old slippers not realizing the world has changed. We're going to need running shoes because we're in a bigger race.
A condensed version of this article originally appeared in the Summer 2017 issue of Playback.