Deals: Level Film, Sinking Ship
Toronto distributor LevelFilm acquires domestic rights to Sergio Navarretta's feature The Colossal Failure of the Modern Relationship, plus more deals.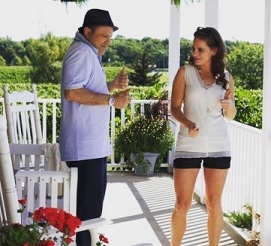 LevelFilm
Toronto-based indie distributor LevelFilm has acquired the Canadian distribution rights to Italian-Canadian director Sergio Navarretta's feature The Colossal Failure of the Modern Relationship (pictured). Written and produced by Alessandra Piccione through her S.N.A.P Productions banner, the romance dramedy stars Krista Bridges (Republic of Doyle) as a wife who makes one final attempt to reignite the flame with her husband Freddy by going on a romantic trip to Niagara wine country. The project previously received funding through Telefilm's Canada Feature Film Fund and also stars Enrico Colantani (Veronica Mars), David Cubitt (Van Helsing) and Brooke Palsson (Between). LevelFilm will release the film in theatres on June 23.
Sinking Ship
Sinking Ship Entertainment's playground makeover series Giver has been picked up in the U.S. by Ion Media Networks' multiplatform service Qubo as well as premium pay-TV network Starz. The show's four seasons have also been picked up by Nat Geo Kids' feeds in the Middle East, where it will premiere in the region on June 6. The live-action series, produced in Canada in association with TVOKids, follows playground makeovers conducted by different teams of six- to 12-year-olds. Giver is currently in its third season, with the fourth season bowing soon in honor of Canada's 150th anniversary of Confederation next month. (The most recent season includes kids building a 50,000-square-foot playground shaped like Canada.) The series won Best Live-Action Program for Kids Nine and Up at the 2017 Youth Media Alliance gala earlier this week.
Beat Bugs
Beyond Distribution has sold its Emmy-winning Netflix original co-pro Beat Bugs to Nickelodeon Australia, which will air the music-centric animated series on Nick Jr. from the end of May. Beat Bugs is produced by creator Josh Wakely's Australia- and U.S.-based production company, Grace: A Storytelling Company, in conjunction with Vancouver-based Thunderbird and Sydney-headquartered Beyond Screen Production. The 52 x 11-minute series features re-imagined versions of famous Beatles songs performed by popular recording artists including Jennifer Hudson, Eddie Vedder, The Shins, Robbie Williams and Pink!. Co-produced by Netflix, Grace: A Storytelling Company, Beyond Screen Production and Thunderbird, Beat Bugs debuted globally in August 2016 on Netflix and airs on Seven Network in Australia. The series, which Netflix renewed for a second season last July, is expected to officially launch to buyers at MIP Jr. later this year. Licensing deals have also already been signed by Target in the U.S. and Tesco in the U.K. for products including toys, publishing and apparel. Last month CBC announced that it had acquired the Canadian broadcast rights to Beat Bugs which will air as part of the pubcaster's 2017/2018 programming slate.
With files from Jeremy Dickson and Alexandra Whyte, Kidscreen