How CBC thriller Caught went from page to production
After a number of holdups, the Take the Shot-produced limited-run series began shooting this week in Newfoundland.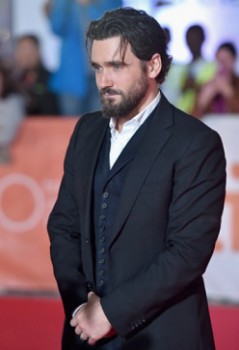 In the very first meeting after Take the Shot Productions and eOne inked a first-look deal, Allan Hawco says eOne's SVP of creative affairs Tecca Crosby handed him a copy of Lisa Moore's thriller Caught – about a drug dealer who makes a daring jailbreak from a New Brunswick prison in 1978 – and told him this could be his next show.
After reading the novel, Hawco was convinced of it. The story and the characters, he said, gripped him and he felt the story would translate well to a visual medium.
The Republic of Doyle star and co-creator then began pursuing the TV rights only to find he wasn't the only one circling the book. A couple of weeks later Hawco made an impassioned call to fellow Newfoundland resident Moore (who Hawco says lives "down the road") to explain his vision for the hour-long series. Shortly thereafter, Moore and the book's publisher, Toronto-based House of Anansi, were sold on the idea too, with the parties swiftly finalizing an option deal.
With the rights in hand, Hawco told Playback Daily the show was sold to CBC later that week.
From here on out, though, things got a little tougher.
Announced initially ahead of CBC's 2016 Upfront, Caught was conspicuously absent from the pubcaster's 2016/2017 lineup and eventually pulled due to a combination of oft-encountered hurdles: financing and time constraints. "We just had to stop and say: 'no wait, we need to make sure we can pull this off,"' said Hawco, adding that CBC was very supportive of the decision to put the brakes on.
While not getting into specifics, Hawco said the budget was reworked and the episode order reduced to five, from six, to maintain a higher production value across all of the episodes. Hawco added that the storyline also warranted a five-part telling and that reducing the series by one episode did not impact the plot.
Production began in Newfoundland this week, with shooting also set to take place in Hamilton, ON and the Dominican Republic (subbing in for Colombia) this summer.
Penned by Hawco alongside John Krizanc (Saving Hope), Adriana Maggs (Rookie Blue) and Julia Cohen (Bitten, Riverdale), the hour-long series sees Hawco playing David Slaney, who winds up in prison after a drug deal goes wrong. Following his escape from jail, he attempts one last deal with his former partner (Eric Johnson), all the while being pursued by the persistent police officer Patterson (Paul Gross). The series also stars Tori Anderson (Open Heart, No Tomorrow), Charlotte Sullivan (Chicago Fire), Greg Bryk (Bitten, Frontier) and Enuka Okuma (Rookie Blue). Directors are TJ Scott (Gotham) and John Vatcher (Frontier, Republic of Doyle).
Filming is scheduled to wrap in mid-August and the show will premiere in winter 2018 on CBC.
Caught is produced by Take the Shot, with CBC broadcasting in Canada and eOne handling distribution. Thus far there have been no international sales announced.
Executive producers on the project are Hawco, Perry Chafe, John Vatcher, Alex Patrick, Peter Blackie, Rob Blackie and Michael Levine. Other shows produced by Take the Shot include Republic of Doyle, which aired on CBC for six seasons, and Jason Momoa-starrer Frontier, which airs on Discovery channel in Canada and streams on Netflix internationally. The series was renewed for a second season last November.