Bell Media unveils L.A. Screenings pickups
The 13-title acquisition roster includes Tassie Cameron-created mystery thriller Ten Days in the Valley and The Big Bang Theory spinoff Young Sheldon.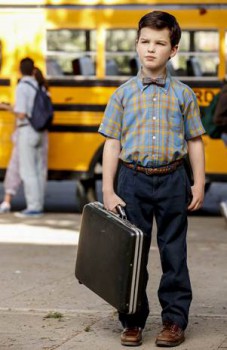 Bell Media has lifted the lid on a packed slate of CTV acquisitions made at the L.A. Screenings, including The Big Bang Theory spinoff Young Sheldon and Tassie Cameron-created mystery thriller Ten Days in the Valley.
In total, the Bell Media channel acquired 13 new series (four comedies and nine dramas), compared with eight last year (one comedy and seven dramas), with the scheduling of those pickups set to be unveiled at next week's CTV Upfront.
On the comedy front, Bell Media picked up Me, Myself and I, produced by Kapital Entertainment in association with Warner Bros. Television and CBS Television Studios, as well as the reboot of U.S. sitcom Roseanne, which originally aired from 1988 to 1997. The eight-episode ABC-produced reboot, which features the original cast, follows the Conner family as they struggle to get by in the fictional town of Lanford, Illinois. 

In addition to Young Sheldon, which focuses on the life of a nine-year-old Sheldon Cooper, CTV also picked up ABC Studios' The Mayor, which begins when an outspoken, idealistic rapper runs for office as a publicity stunt and, to everyone's surprise, gets elected.
Young Sheldon wasn't the only high-profile spinoff that Bell Media picked up. The media co also left the L.A. screenings with the rights to the fire fighter-themed Grey's Anatomy spinoff from Shonda Rhimes. The currently untitled series is executive produced by Rhimes and Betsy Beers and produced by ABC Studios. CTV also nabbed another Rhimes' drama, For the People, also produced by ABC Studios, a legal thriller following a group of lawyers working high-profile cases in New York.
Tassie Cameron's Ten Days in the Valley was among nine drama-focused series to get Bell Media's approval. Created and written by Cameron and produced by California-based Skydance Television, the show stars Kyra Sedgwick as a TV producer and single mother in the middle of a fractious separation whose daughter is taken in the middle of the night.
Also on tap for CTV are two new Marvel series: Marvel's Inhumans and The Gifted. The latter, written by Matt Nix (Burn Notice), directed by Bryan Singer (X-Men) and produced by 20th Century Fox Television and Marvel Television, picks up when a suburban couple's life is upended by the discovery that their children possess mutant powers. Inhumans, meanwhile, produced by Marvel Television and ABC Studios, sees a group known as the Royal Family of Inhumans being splintered by a military coup.
Also among the drama pickups are The Good Doctor, from California prodcos Shore Z Productions and 3 AD, ABC Studios' Jason Ritter-starrer The Gospel of Heaven, and The Crossing (also ABC-produced), which begins when refugees from a war-torn country begin showing up to seek asylum in a small American fishing town.
Finally, CTV  picked up the rights to Deception, produced by Berlanti Productions and Quinn's House in association with Warner Bros. Television.The series tells the story of  superstar magician (played by Jack Cutmore-Scott), whose career is ruined by scandal.