Nomadic's Ghost Wars set for Syfy, Netflix
Production is currently underway in Vancouver on the Simon Barry-created paranormal thriller.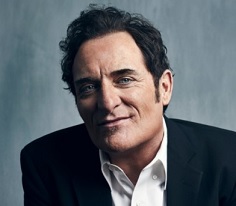 Production is underway in Vancouver on Nomadic Pictures' latest project Ghost Wars, created by Continuum showrunner Simon Barry.
Thirteen episodes of the paranormal action series are set to air on Syfy in the U.S. in 2017, with Netflix nabbing the international rights. Filming began on May 1 and is scheduled to wrap at the end of August.
The hour-long show stars Vincent D'Onofrio (Jurassic World), Kim Coates (pictured, Sons of Anarchy), Avan Jogia (Tut, Victorious, Twisted), Kristin Lehman (Motive) and Meatloaf (Fight Club).
The series has lined up an impressive list of directors. David Von Ancken (Tut), who previously worked with Nomadic on Hell on Wheels, will step behind the camera, as will Lehman (Motive), Jason Priestley (Private Eyes), Leslie Hope (Aftermath), Michael Nankin (Van Helsing), Mathias Herdndl (Motive), and Barry, who will also serve as showrunner.
Set in a remote Alaskan town overrun by supernatural forces, Ghost Wars follows a local outcast (played by Jogia) who must harness his psychic powers to save his town from a mass haunting.
Executive producers are Chad Oakes and Mike Frislev (Fargo), Barry, Dennis Heaton (Motive) and Von Ancken (Code Black). Nomadic Pictures is handling  both domestic and international distribution.
Nomadic is also currently in production on the second season of Van Helsing, which also airs on Syfy in the U.S. and Netflix internationally.