Tatiana Maslany-produced Touch receives BravoFACT coin
The short film, directed by Bryan Kawalsky and written by Kathryn Alexandre, was among 11 projects to share $512K in the fund's latest round.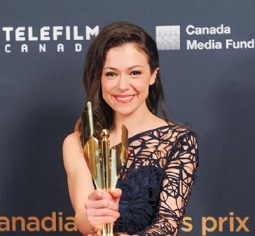 Tatiana Maslany-produced short film Touch was among 11 projects to receive production financing from Bell Media's BravoFACT. The fund handed out $512,750 in its latest round.
The film, about a man struggling with the loss of his father, is directed by Bryan Kawalsky and written Kathryn Alexandre, who coproduces alongside Maslany.
The BravoFACT recipients, chosen from 202 applications, also include Taylor Hill's Connect the Dots, about a man who brings his one-night stand to a funeral, writer/director David Jermyn's Be My Guest and Angie Bird's The Day Grunge Died, which tells the story of a group of girls informing their friend of the death of Kurt Cobain.
In keeping with the fund's current mandate, 10 of the shorts are female-led productions. BravoFACT has now distributed more than $30 million to scripted and documentary projects since its launch in 1995.
As well, writer/director Kawennáhere Devery Jacobs' Rae, Trevor Kristjanson-directed Platypus, written by Josh Benoit, and Slash/Back, penned by producer Nyla Innuksuk and directed by Alethea Arnaquq-Baril, received a share of the BravoFACT coin.
The fund also approved director/producer Jeremy Lutter's Giltrude's Dwelling, Alyssa Pankiw's The Inherent Traits of Connor James, Shelley Thompson's Pearls and writer/director Patrick Maloney's Screen Thru.
The next submission deadline for BravoFACT is May 12.