Guy Godfree wins at CSC Awards
The Maudie DOP took home the top film prize at the 60th annual gala, while Gregory Middleton and Pasha Patriki won on the TV side.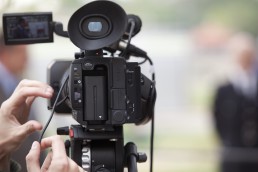 Guy Godfree and Gregory Middleton were two of 19 winners at the the Canadian Society of Cinematographers 60th annual awards gala, held Saturday night in Toronto.
DCTV president David Cormican was on hand to present Godfree with the theatrical feature cinematography award for his work on Maudie. Cormican also presented Middleton with the TV series cinematography prize for his visuals in Game of Thrones' season six episode "Home," and Pasha Patriki with the TV drama cinematography trophy for Gridlock. 
Toronto International Film Festival director and CEO Piers Handling paid tribute to festival co-founder Henke Van der Kolk, who was recognized for his outstanding service contribution to the motion picture industry, while David Greene (Call Me Fitz, The Listener) was celebrated for outstanding contributions to the art of cinematography. Meanwhile, Guido Kondruss was recognized for outstanding service to the CSC and Eric Bensoussan took home the camera assistant award of merit.
Other winners on the night include Stuart Campbell, who took home the award for documentary cinematography for Caribou Legs; Sammy Inayeh, who won in the  youth programming/comedy/multi-cam sitcom category for his work on the Man Seeking Woman episode "Tinsel"; Alan Leader, who received the TV magazine cinematography prize for "Colonist Car" on Daily Planet; Greg Bartels, who picked up the lifestyle/reality trophy for his work on the Hand Crafted segment "The Potter"; Christopher Lew whose The Wall won the Webeo cinematography award; Bobby Shore, who won the music video cinematography prize for his work on Zoe Sky Jordan's "Power Lines"; and Todd Duym, who won in the dramatic short cinematography category for Rue.  
In the commercial cinematography category, Adam Marsden was awarded for his work on the Newfoundland and Labrador Tourism campaign "Crayons," while Matt Bendo picked up the branded/corporate/educational content trophy for Storm – "Lamborghini Aventador"/"Armytrix Titanium Exhaust"/"YST Tuning Canada."
For the first time, there were two winners of the student cinematography prize: York University's Robert Murdoch for Moods Like Jazz and Sheridan College's Trish Young for Dread.