Jeremy LaLonde preps next feature
James vs His Future Self will be produced by Walker Entertainment, Banana-Moon Sky Films and JoBro Productions.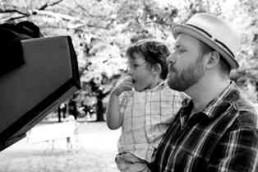 Jeremy LaLonde is set to get to work on his fifth feature.
James vs. His Future Self will be produced by LaLonde's frequent collaborators, Jordan Walker of Walker Entertainment and Jonas Chernick of Banana-Moon Sky Films, as well as Jonathan Bronfman of JoBro Productions. Bronfman, who recently served as an executive producer on Race and The Witch, boarded the project this month.
The sci-fi comedy from the How to Plan an Orgy in a Small Town director follows James, an ambitious scientist determined to become the first time traveller, who is visited by an eccentric older man claiming to be his future self.
Written by by LaLonde and Chernick, the feature was developed with support from the Harold Greenberg Fund and Super Channel. Casting is currently underway, with production set for fall 2017 in Ontario.
LaLonde and Walker also recently completed post on The Go-Getters, a comedy starring Aaron Abrams and Tommie-Amber Pirie.