Playback's Digital Roundtable – Part One
Execs from leading media companies dig into everything from discoverability to monetization and working with SVODs.
As Canada's film and TV industries grapple with the never-ending change of the digital economy, we gathered six market vets to talk about the future. Over a satiating meal and (a few) glasses of wine, Mark Bishop, co-CEO and executive producer of marblemedia; Maria Hale, Corus Entertainment's SVP, global entertainment and acquisitions; Jocelyn Hamilton, president, Canada, eOne Television; Richard Kanee, CBC's head of digital for English services; Jamie Schouela, EVP of Canadian networks at Blue Ant Media; and Charles Falzon, dean of Ryerson University's faculty of communication & design weighed in on everything from discoverability to monetization to everyone's favourite: SVOD.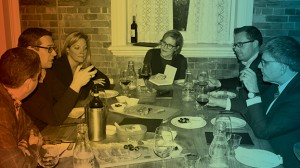 Playback: What's exciting you about digital right now?
Richard Kanee, head of digital for English services, CBC: We don't have to guess as much anymore. The markets are presenting themselves and behaviours around media are starting to crystalize.
There are still a lot of variables to work out, but we're outside the phase of throwing spaghetti against the wall, putting a premium on innovation and guesswork because we don't know and there's no obvious consumer behaviour to latch on to. That [clarity] will all be destroyed in 10 years with AR and VR and a whole bunch of other stuff that we can see on the horizon, but at least within the next five to 10 years we see a path to building really sustainable digital media businesses for the first time.
Jocelyn Hamilton, president Canada, eOne Television: There's still a little bit of uncertainty around where the money's going to come from.
Kanee: Absolutely. But the tipping point is advertisers are interested in the audiences on digital platforms. Now that advertisers are willing to invest in those platforms and take risks, it does actually feel like we're in this next phase of the digital evolution.
Hamilton: It's cool that there are some new platforms like Vimeo, Spotify and GoPro getting into full programming slates. They have VC money or equity partners and are going to spend [a set] amount on a slate of programming. You ask, "Are you talking five-minute programming?" They respond, "No, full half-hours or hours." They all want to be the next Netflix.
Jamie Schouela, EVP of Canadian networks at Blue Ant Media: What's really exciting is we can go direct to consumer anywhere very cost effectively, very quickly. You don't need the infrastructure. We have an SVOD product, Love Nature, in 33 markets around the world – it required very basic infrastructure to bring that to launch. We hit consumers directly to find large audiences through social platforms in those markets in a targeted and cost-effective way. It gives us, as global rights holders, a way to leverage our content in new and quick ways.
PB: What are the benefits the SVOD model brings to the business?
Maria Hale, SVP, global entertainment and acquisitions, Corus Entertainment: The beauty of Netflix is it always had a subscription-based business model so we could compete, unlike Napster [which gave away content for free]. When that first launched, we were at MuchMusic trying to figure out what the hell to do.
Kanee: There's a huge opportunity for Netflix to double down on originals. Because [its strategy banks on] original content, then it's only as good as the next hit, which is the business we've all been in for decades. It's an even playing field – with the exception of the brand equity, the early mover advantage and the seemingly bottomless content investment they have.
Mark Bishop, co-CEO and executive producer of marblemedia: Everyone's realizing there has to be an investment in original content production in order to be able to compete. Netflix has proven that model. All the other players now want to invest heavily. Hulu's just been approved to make a massive investment in original content. To Jocelyn's point earlier, it's creating more players.
Charles Falzon, dean of Ryerson University's faculty of communication & design: Before the Netflix model, if you were focused on audiences and were a market-driven organization you would look at other indicators – what books were selling (Oh good that kids book is moving on the shelf more than this one) or toys. Now one of the biggest indicators is to see how the organic networking happens.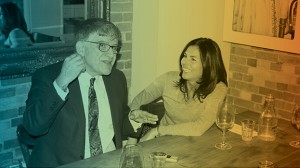 PB: What unique challenges are SVODs posing to your business and how are you combatting them?
Schouela: In Canada, Blue Ant has eight linear channels today. We [envision] having a group of SVOD services sitting beside them, in many cases unrelated to our linear services. It's going to come down to discoverability and aggregation. We are at a point where consumers have Netflix, maybe they'll get Amazon, maybe they want a niche product like Love Nature. But ultimately, people are not going to want to pick these services à la carte. The road for à la carte growth is very challenging for any media company. Any SVOD player around the world, big or small, except for Netflix generally, does not really want to be on the subscriber side. The goal is going to be bundles of content, which is actually an old thing. This is where the distributors, the MSOs and the BDUs are well positioned, as is Amazon and other incoming distributors.
[Companies should] offer consumers a value pack of apps, whether that's linear channels and apps or just even in an aggregated SVOD space. I will pay $10 and you give me a menu of SVOD services. I will pick the five I want and that's good value for me as a consumer and provides ease for me to find [content]. The discoverability and the aggregation is important. We're not there now. That is a challenge in terms of the SVOD model today.
Hamilton: But there's nothing to discover if we can't get shows commissioned. You will be seeing the rest of the world's content and shows that are already made, but our challenge is how are we going to transition from the system we've been used to in Canada – show gets commissioned, we have CMF, tax credits, etc. – to a world where a show has to be made before anyone will pick it up? Unless you're lucky and Netflix pays you $104 million to make a start, of course. But how are we, Canada, 35 million people, going to compete if we don't have a leg up with commissioned products that we can then go sell to the world?
Bishop: We have to protect what has worked up until now. But we have to have a forward-thinking view of how we bring new players and new partners into the system. It's a very complicated thing, as the Minister [of Canadian Heritage Mélanie Joly] herself has found. As she starts to wade into some of these areas, you get into a dirty swamp of issues.
You get into: Should Netflix be paying into the system? Do we have a Netflix tax? There are a lot of issues out there right now in terms of who should be contributing and who should be able to access the system. We have this wonderful, protected system in Canada, but it's actually to our detriment. It's threatening our ability to be innovative. We're all stuck under the weight of this system.
Falzon: The market has shifted, you can't un-shift it. For years we played the "Oh, if only we didn't have such a small market here in Canada" card. Well now we have a big market: The world.
The competition has now become very real. Are we ready for it? Here are a few areas we're not ready: I don't think we have the marketing savvy to be ready on the global market.
Second: Creative people. Yeah, we have a lot of creative people. But whenever we try to do sitcoms we don't have as much of a pool because we haven't had enough business. We've got to nurture that.
Third: Risk capital. We have a business that is built on government systems and protection that has not been attracting venture capital into high-risk, early stages of creative innovation. We don't have a model. The funding needs to be in content development. I believe that we can actually catch up with the organizations we have now – including ones that are at this table – and be global. But they need the content. That content creation isn't going to come from just a few [thousand dollars] from one of the funding agencies. It has to be big dollars.
This article originally appeared in the Spring 2017 issue of Playback. Check back on Monday for part two of the Roundtable, when our execs discuss audience engagement and how they're making money online.