Inside eOne's Goon 2 promo push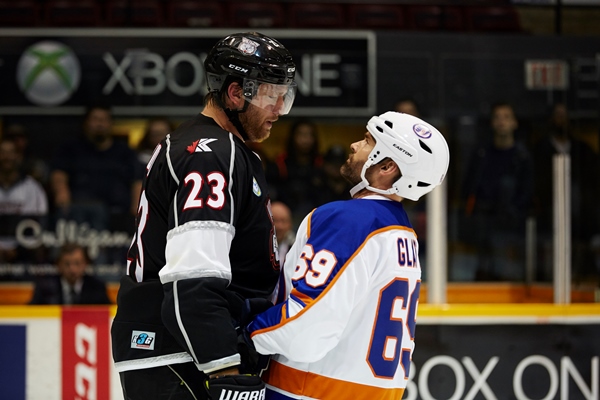 The distributor hopes its social strategy and physical footprint will help draw new and established audiences to the sequel.
It's been five years since Michael Dowse's hockey comedy Goon hit theatres, earning more than $4 million at the domestic box office and taking home the Telefilm Canada Golden Box Office Award. The long-awaited sequel Goon: Last of the Enforcers (No Trace Camping, Caramel Films) is finally set to premiere across Canada today. The sequel, aimed at the male 18-to-34 demo, will see Pat (Jay Baruchel), Doug Glatt (Seann William Scott) and Ross Rhea (Liev Schreiber) all return to the ice.
The film's Canadian distributor, eOne, began building buzz for the film back in November, when its R-rated teaser trailer, featuring plenty of fist fights and F-bombs, bowed in theatres alongside the equally non-cerebral 18A-rated Bad Santa 2.
Mark Slone, EVP of theatrical distribution and marketing at Entertainment One Films Canada says the trailer was aimed at those who've already seen Goon: "The teaser serves to say to the core audience, the ones who will go out on social media and help spread the world for us, that the film hasn't lost its edge."
After bowing in theatres, the trailer launched online, racking up 500,000 views on YouTube in its first week and making the front page of social site Reddit. In late December, eOne went broader with TV spots on suitably macho sports properties, including hockey and wrestling, and started to roll out GIFs and motion posters from the film to further encourage social sharing. It also heavied up on air with spots running around Hockey Day in Canada on Feb. 18.
One of the biggest challenges of releasing a Canadian film isn't just getting audiences to choose your movie, but rather "letting them know it even exists," Slone says.
To that end, in February and March, eOne ramped up its promo efforts, launching national retail campaigns with Rockstar Energy, GNC Stores and sports trading card producer Upper Deck – brands that engage with the core demo, while creating a broad footprint, says Slone.
The Rockstar Energy partnership consisted of a contest which gave the film an entree in 247 grocery stores across Ontario and Atlantic Canada through in-store marketing, flyers and social media; while a Goon contest with GNC drove awareness in its 334 locations across the country and through its social media. The Upper Deck Goon hockey cards deal made sure fans could physically spread the word about the sequel.
Now to see if the promo push pays off.
This article originally appeared in the Spring 2017 issue of Playback.