NCFD 150 launches Canada-wide promo campaign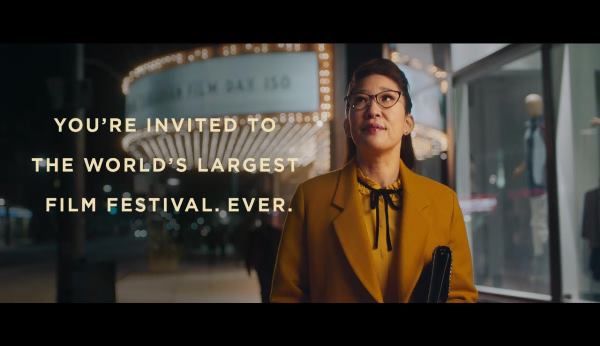 In addition to TV spots directed by famous Canadians, several large-screen installations showing clips of Canadian films will appear in cities across the country.
National Canadian Film Day (NCFD) 150 is set to be the largest edition of the film festival since it launched in 2014.
As a signature event celebrating Canada's 150th anniversary, this year's NCFD will see more than 1,500 screenings in schools, theatres and public squares across the country and in consulates and embassies around the world.
To help spread the word about the one-day festival on April 19, Reel Canada, the non-profit that hosts NCFD, along with agency Leo Burnett are launching an ad campaign across the country.
The campaign kicks off with two TV spots that will premiere during the live broadcast of the Canadian Screen Awards on March 12.
The first stars Breakaway's Vinay Virmani in a one-minute clip about Abe, a man who is "always late" –  for work,  birthdays, the bus. The ad, which was directed by Atom Egoyan, tells Canadians "don't be like Abe," and to turn out for NCFD 150 on April 19.
The second, directed by Don McKellar, stars Sandra Oh as a woman who cannot lie – she even tells her father that "mom says demeaning things about you when you're not around." So when she exits a theatre that's just screened NCFD films, you're to believe her when she says, "I saw the films, and they're fantastic."
"One message is these films are fantastic and we need to treasure and celebrate them and have fun with them. And the other message is: It's just one day. This is the moment. This is the time," Jack Blum, executive director of Reel Canada, told Playback Daily.
The industry came together to create the ads, with talent, guilds, and equipment provider William F. White donating their services, added Sharon Corder, artistic director of Reel Canada.
The promos will air in Cineplex theatres across the country, as well as select Landmark Cinemas and the TIFF Bell Lightbox in Toronto.
NCFD 150 will also be promoted through large-screen pop-up installations in Vancouver, Montreal, Toronto and Halifax beginning March 20. These installations, which will only be up for two to three days, will loop clips of films that have shot in that area, with the message, "This film comes from here."
"We want people really to connect with the idea that we tell our own stories and the stories that we tell about ourselves are different and more personal and resonate in a different way with Canadian experience than foreign-produced films," said Blum.
In addition to the installations, markers will be placed across the country indicating where Canadian films have been shot, where a filmmaker comes from and where a film was inspired. For example, the diner where The F Word was shot will have tray liners and coasters about the film, while Indigo will place bookmarks in novels that have been adapted for film.
All of these markers will lead Canadians to the NCFD website to find screenings and events near them.
While Corder says the campaign targets "everybody," she'd like the ads to resonate with the industry itself. "I've been around this business for a long time and sometimes I've found that we're not that proud of what we put forward," she said. "I would like everyone in the industry to stand up and feel proud, at least for one day."