New showrunners talk TV: Aubrey Nealon
The Cardinal writer/executive producer talks about how the CTV series came together, why he transitioned to TV and what lies ahead.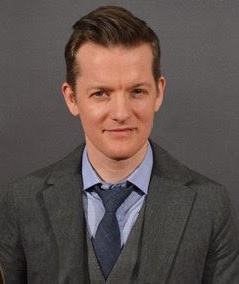 In a new series, Playback Daily is catching up with some of Canada's next generation of showrunners and discussing everything from running a writers' room to closing deals.
Here we caught up with Cardinal showrunner and Rookie Blue alumnus Aubrey Nealon. Cardinal, which airs on CTV, is an TV adaptation of the book Forty Words for Sorrow from author Giles Blunt's series of novels John Cardinal Mysteries. The premiere episode of the six-part drama attracted 1.3 million total viewers and was recently licensed to the U.K.'s BBC (to air on BBC Four). The series is produced by Sienna Films and eOne in association with CTV and stars Billy Campbell (The Killing) and Karine Vanasse (Revenge).
How did you come to be the showrunner on Cardinal?
The project came to me in a way that even before I'd read [Forty Words for Sorrow] I thought, "Well this is a project I'd like to be on." Sienna eventually took over the project with CTV and they started to look for someone who could showrun the series, which is when they approached me. When I took the job, we had the idea that I would write all six episodes – more like the U.K. model [where one writer pens an entire season] – which was intriguing to me and I wanted to take on the challenge. There was no writers' room. But I took the job thinking there would be a little more time to do it. By the time we got the greenlight, it was already crunch time and I had to crank out a lot of scripts [between September 2015 to January 2016], so we ended up bringing in Russell Cochrane (Orphan Black, Rookie Blue) to write one of the episodes.
How was the shoot in Sudbury and North Bay?
Staggeringly cold. It was minus 36 degrees on the first day – stuff didn't work, gear broke, people's faces didn't work. We shot on a tight timeline [between February to April] and block shot the first six episodes entirely.

You were more focused on filmmaking in your early career. How did you make the transition to television?
I made a feature 10 years ago (A Simple Curve) and I had been scuffling along after that, trying to make the second [feature] happen. I was directing a little bit of TV on the side, but my main job was rewriting this one [film] script [which was a historical story based on the origins of Greenpeace]. I had a crack at writing a spec script for Flashpoint – and the reason I did that was because I had met Mark Ellis and Stephanie Morgenstern (Flashpoint's showrunners) about five years before at a small film festival. They were literally the only contact that I knew in the TV business, and I didn't really know them well at all. But I thought "At least I know them well enough that they will probably read the script." So I sent it to them and they were very kind. They couldn't use it on that season, but they ended up bringing me on for season two into the Flashpoint writers' room on a trial basis. And then we ended up making that very episode I had written [the spec script for]. Since then, I've been going from one show or thing to the next.

But [TV] is where some of the most interesting work is happening in Canada right now. I think we're starting to make great TV. I think anyone who is trying to decide between feature film and TV in Canada would have to have very compelling reason to stick with feature films right now – it's just so difficult to do.
What is the industry doing well?
We're starting to turn a corner towards making more interesting material. It feels like there are network execs and networks that are interested in trying out different things. That's exciting and feels like it's been a long time coming.
What's causing this?
I suspect it's that the existing audience is demanding it. These shorter-order shows, limited series, things like Cardinal or Mary Kills People, are starting to become more common. And that format requires [more original  and experimental content]. For example, you can't just do an episodic police procedural for six hours and then the season is over – there's no market for that. So in some ways I think the form is shaping the content.

What's next for you? Is there a chance we will see more Cardinal?
There is, but it's too early to say. It's based on a series of six books, and so the idea was always that it would be like a six-hour miniseries per book.
As for right now, I'm working on a show for Tassie Cameron for ABC called Ten days in the Valley. Production is underway in L.A., but we did the writer's room in Canada, and it will be posted in Canada too. So it was this great opportunity to work with her on this show and I get to stay [here] for the writing portion of it. I'm also heading to L.A. there for a bit of production on Ten Days too.
Do you have any other projects in development? And what types of content are you drawn to watching/creating at the moment?
What I really love to consume as a TV viewer is the cable half-hour stuff, like Transparent (Amazon Studios), Atlanta (FX) and Enlightened (HBO). And we don't really make them here in Canada, and I think it's something we really should make. That's something I'm thinking about. But, I don't even know what the market is for that necessarily, I just know that I enjoy watching it –  drama, mixed with comedy in a 30-minute format. And then the other stuff I like is the limited series, serialized, hour-long content. Those are the two places I gravitate towards when I think about ideas.
As for future projects, I have a bunch of vague ideas but I don't have anything I'm ready to pitch right now. One of the things I'm looking forward to is taking a breath and putting my thoughts into that. I just haven't had time – I was going from show to show to show, through Orphan Black, and then Cardinal happened, so I haven't had a break in a couple of years. I'm looking forward to it.
Image from the Academy of Canadian Cinema and Television's website