Deals: Indiecan, 9 Story, D360, UFE
Indiecan acquires various rights to three documentaries, including Michael David Lynch's Victor's Walk, Hulu picks up season one of 9 Story's Camp Lakebottom, plus more deals.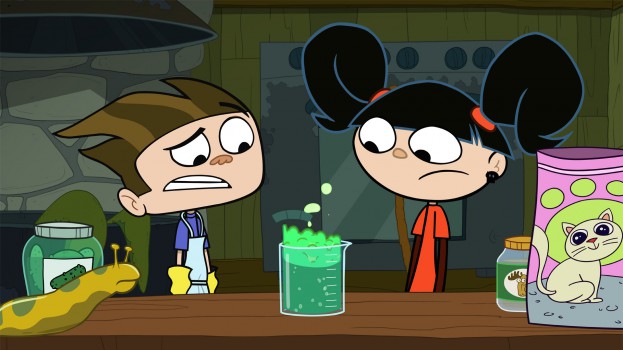 Indiecan
Indiecan Entertainment has acquired various domestic and international rights to Michael David Lynch's Victor's Walk, Katie Bender and Leo Baker's The Will To Fly and Lynne Spencer's Broken, all of which screened at Whistler Film Festival last year. Indiecan took the North American and international rights for Victor's Walk, a documentary about former professional ice hockey player Theo Fleury as he embarks on a 400 kilometre walk from Toronto to Ottawa to draw attention to the light sentences given to convicted pedophiles in Canada. The Toronto-based company also picked up North American rights to sports doc The Will To Fly, which won both the Mountain Culture Award and the World Documentary Award at Whistler 2016. In addition, Indiecan acquired the Canadian distribution rights Broken, a documentary about Simone Orlando, Ballet BC's lead dancer for twelve years.
9 Story
Hulu has acquired the streaming rights to season one of 9 Story Media's children's series Camp Lakebottom. Under the terms of the deal, Hulu has picked up the exclusive VOD rights (U.S.) to season one of the show, which airs on Teletoon Canada and Disney XD in the U.S. 9 Story also sold seasons six, seven and eight of Garfield and Friends to Hulu (each of the three seasons is 15 x 24 minutes). As well, the Toronto company has sold Sweet Tweets (32 x 3 minutes) to a number of digital platforms internationally, including Toon Goggles (U.S.), Curious World (worldwide), Homer (worldwide), and Future Today (worldwide). 9 Story holds the international rights to the series, which is produced by Kelowna, B.C.-based animation studio YetiLABS, a division of Yeti Farm Creative. The series has previously been licensed to Knowledge Network (Canada) and BBC Canada.
United Front Entertainment
Distribution firm United Front Entertainment (UFE) has acquired the Canadian home-entertainment distribution rights for Country Crush, produced by Good Soldier Films and First Beacon Entertainment. The film, which stars Madeline Merlo and singer/actress Jana Kramer, is set for home video and digital release in Canada on March 14th, 2017.
Distribution360
marblemedia's Distribution360 has acquired the international sales rights to George and Paul, produced by Dutch animation studio Pedri Animation. The stop-motion animation series (26 x 5 minutes) is created by Ka-Ching Cartoons and tells the story of two friends who live in a world where everything exists as cardboard boxes. As well, Distribution360 picked up the sales rights to a second season of Apartment 11 Productions' The Mystery Files.
Squeeze
Animated series Cracké, created and produced by Montreal animation studio Squeeze has been picked up by Indonesian TV channel Indosiar. In Canada, the series (52 x 1) airs on Corus Entertainment's Teletoon. The property is now broadcast in more than 175 countries and territories throughout the world, according to Squeeze.
DHX Media
Shout! Factory and DHX Media have signed a multi-year home entertainment deal for pop star Gwen Stefani's animated series Kuu Kuu Harajuku. L.A.-based Shout! has secured exclusive North American home entertainment distribution rights to the series, which DHX distributes globally. The deal spans DVD and Blu-ray rights in the U.S. and Canada for the show's 26 episodes. Kuu Kuu Harajuku airs on Nickelodeon in the U.S. and on Family Channel in Canada. The show follows the adventures of the band HJ5 and focuses on music, fashion and friendship. Kuu Kuu Harajuku is co-created and executive produced by Stefani, Moody Street Kids (Australia) and Vision Animation (Malaysia). It was commissioned by Network Ten, with investment from Australia's Film Victoria and Malaysia's MyCreative Ventures.
With files from Elizabeth Foster