New showrunners talk TV: Daniel Levy
The executive producer, creator and star of Schitt's Creek talks about avoiding sitcom-style comedy, finding writers in unexpected places and what's next.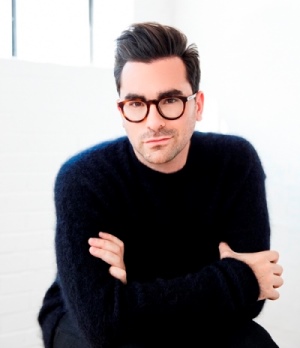 In a new series, Playback Daily is catching up with some of Canada's next generation of showrunners and discussing everything from running a writers' room to closing deals.
Here, we spoke with Daniel Levy, creator, executive producer and star of Schitt's Creek. The CBC comedy, currently in its third season, follows a formerly-rich family that loses everything and is forced to live in a town they bought as a joke. The series recently picked up 13 Canadian Screen Award nominations, including Best Comedy Series. Schitt's Creek is produced by Not A Real Company Productions. Executive producers on the series are Andrew Barnsley, Fred Levy, Ben Feigin, Kevin White, as well as Eugene and Daniel Levy. Colin Brunton produces and Michael Short serves as co-executive producer.
Why did you want to tell this story? 
I had been playing around with the premise of this sort of conscious collective that we have when it comes to the way that wealthy people live their lives. Generally speaking, we've never been more saturated with the lifestyles of the extremely wealthy. Be it the Real Housewives franchise or the explosion of the Kardashians and everything they've illuminated in terms of how they choose to live their lives. I just thought there's an idea there in exposing what it would be like to pull the financial rug out from under these people who so clearly indulge and love excess and explore what it would look like when you don't have that kind of luxury. What would a family look like? What would relationships look like? What it turned into really was a story about love. And how in the case of the Rose family of our show, money really stood in the way of love, intimacy and these people really understanding who they are and what they mean to each other. Once we figured out the hook and really fleshed out what the characters were when it came to the four Roses, things seemed to really fall in place. It's been just a treat to work on ever since.
How did the deal with the CBC come about? 
We had made a 12-minute presentation pilot for our show about six months prior [to closing the deal]. We're connected with ITV as a distribution company. In the process of taking the show out, the presentation pilot was given to CBC. They were very enthusiastic and very clear that they wanted the show, that they would support it and that they really would get behind anything we wanted to create and let us do that with a certain level of freedom.
That was a really enticing opportunity, particularly because some of the other avenues that we were pursuing at the time came with a lot of stipulations – particularly creative.
From my personal opinion, I feel like the death of television is the notes process: networks providing notes based on a handful of different mandates that have nothing to do with the creative process. I think that's what really kills a show. For us, knowing how small our show was and how specific we wanted to be in terms of the style of the comedy and where we wanted to take it story-wise, we knew in the back of our minds that we couldn't entertain the idea of taking it to a place that wouldn't be 100% behind what we were doing creatively. So we decided to move forward with CBC and in the process acquired our U.S. broadcaster at Pop. That made up the whole pie.
How did you put together your writers room? 
The biggest challenge when it comes to hiring our writers is that they understand that this isn't a sitcom. We don't want to make a 50 laughs per minute show. That's not something we ever intended to do. The comedy of our show comes out of the reality of the characters and the reality of the situations. So we never go into an episode thirsty for laughs. It's all about telling interesting stories that we can extract humour from. That's a difficult thing for certain writers because they're used to the sitcom angle. [We want] writers who are observational, writers who are able to translate their own experiences into storytelling. That's why we've gone off the beaten path a little bit in terms of where we source [them]. We have everyone from seasoned television writers to personal essayists to playwrights and ultimately it just comes down to their perspective on life and how they've been able to articulate that in their work. Dave West Read, who's our co-executive producer this year and head writer, was a Julliard grad for play writing. To me, his skill-level in terms of being able to see the truth in a moment [was more important] than his level of experience in television.
How big is your writers' room? 
There's about six on average [per season].
What's next for you? 
I'm developing another show at the moment that I can't really talk too much about.  It's a dark comedy. So far so good. It's in the beginning-ish stages. It's exciting.
I think it's a matter of continuing to push our limits in terms of the quality of the content that we're producing. We have so much talent in this country, we need to use it and make the best of it. For me it would just be continuing to ride this wave of really high-quality Canadian content and continuing to one-up ourselves in terms of pushing boundaries and limits creatively.
To read other interviews from our showrunner series, including a chat with Workin' Moms creator Catherine Reitman, click here.