Women in View reveals Five in Focus
Gloria Kim and Wendy Morgan are among the female directors the organization is putting a spotlight on.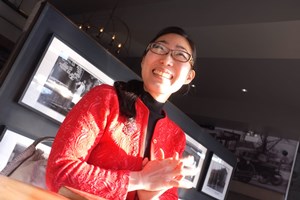 Gloria Kim (pictured) and Wendy Morgan are among Women in View's Five in Focus initiative.
Unveiled at the CMPA Prime Times in Ottawa, Kim and Morgan are joined by fellow directors Weyni Mengesha, Jem Garrard and Sherren Lee.
It's not Kim's first time in this type of program: In November, 2016 the Toronto-based director was picked as on of Women in the Director's Chair (WIDC)'s eight participants for its 2016 Story and Leadership program. Among her other accomplishments, her short Rock Garden: A Love Story which aired on CBC, Bravo and IFC, has picked up a number of awards, including the Global Audience Award at Slamdance in 2008.
Morgan began her career directing music videos, and since 2001 has picked up several Much Music Video Awards for her work. More recently, she's directed eight episodes of the Family Channel series Backstage, and is preparing her first feature Sugar Daddy alongside producers Lauren Grant and Lori Lozinski.
A part-time theatre director (including the original stage production of Kim's Convenience), Mengesha also works behind the camera directing films Father Comes Home from the Wars and Breath of Kinds. 
Garrard has spent the past seven years directing music videos and documentaries out of Vancouver, including vids for the likes of Ringo Starr and Linkin Park. Her first doc Guns to Misc is currently touring the festival circuit, while her 2016 short film Unit Bryan is currently in the works of becoming a TV series for Telus Optik.
Finally, Toronto-based Lee has worked with Women in View's 2XMore initiative, directing an episode of Sinking Ship's Dino Dana. Her short Benjamin was an official selection at TIFF in 2015, as well as part of the WIFT-T Showcase in 2016. She's currently working on her first feature, With Might and Grace, as well as a TV series based on Benjamin.
The Five in Focus were chosen by Sarah Adams, executive in charge of production, drama, CBC Television; Louise Clark, president and executive producer, Lark Productions; Jennifer Holness, president, Hungry Eyes Film & Television; Gosia Kamela, production executive, drama and feature film, Bell Media; and Christina Piovesan, founder and principal, First Generation Films.
First announced in December, 2016, the initiative is designed to highlight the diversity and depth of female directors in Canada. The five finalists will be offered a networking day facilitated by Telefilm Canada, which includes meetings with the jury pool and others in the private and public sector. Each also picks up $2,500 in services from William F. White as well as passes to the upcoming TIFF, VIFF and Whistler Film Fests.