Viceland launches scripted comedy series
Nirvanna the Band the Show marks the start of the channel's scripted content strategy, says Vice Media's Michael Kronish.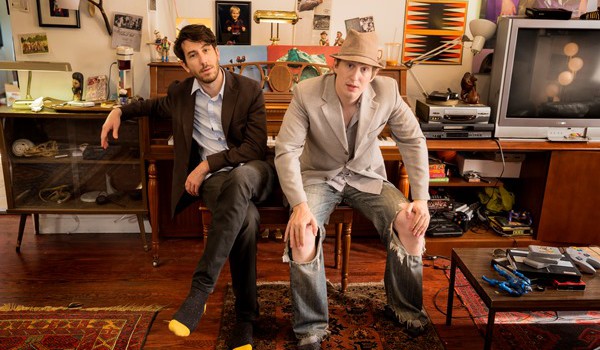 Viceland is set to launch Nirvanna the Band the Show this week, its first-ever scripted series.
Produced by Toronto-based Zapruder Films and Vice Canada, and created by Matt Johnson and Jay McCarrol, the series follows bandmates Matt and Jay as they attempt to get a gig at The Rivoli. Nirvanna the Band the Show premieres Feb. 2 on Viceland in Canada and the U.S. Rogers will also simulcast the premiere on City in Canada. Viceland is co-owned by Rogers Media and Vice Media.
Michael Kronish, executive vice-president of TV and digital production, Canada at Vice Media told Playback Daily the "bizarro comedy series" was a natural fit for the millennial-focused TV channel.
"What we're interested in, as a general philosophy, for Viceland are shows that would best and sometimes only live perfectly on our channel," he said. "There will be nothing like this show on television anywhere else. For Vice and Rogers, as a joint venture partnership, we really want to take chances with content so when we saw this, [we] thought this was a perfect show to invest in," he said.
What makes a show uniquely "Viceland" is harder to define, though Kronish said the channel is generally looking for unique voices and points of view and alternative approaches to conventional formats – all qualities evident in Nirvanna the Band the Show, he said. 

"I think [the show is] going to open up for Vice and for Viceland an audience that's as broad as we've done, because of the unique format that they've created for the show, and also because of how deeply interesting their sense of parody and pop culture is," he said.
Since launching in Canada last February, Viceland has become known for its docuseries, such as Rise, which recently premiered at Sundance, and Ellen Page-hosted Gaycation. While Nirvanna the Band the Show is the first scripted series commissioned by the channel – Kronish said it absolutely won't be the last.
"Both Rogers and Vice Studios Canada are going to be pursuing a scripted strategy as of 2017. It's a priority for us to find more unique voices within the Canadian creative television and film landscape to bring to our world and to try out more and more alternative formats and to find innovative ways of storytelling," he said. "I definitely want the industry to know [that if they] thought that we were just a company that was doing unscripted doc series, that's a false impression. We do really want to pursue the best Canadian showrunners, writers, producers and directors who are interested in making scripted content for Viceland."
He added Rogers and Vice are open to pitches and are looking for scripted content across genres. "It could be anything from a horror series to a comedy series. It can be historical, it can be contemporary. There are no limitations on the kind of content that we'd be looking at," he said.
Nirvanna the Band the Show is directed by Johnson and produced by Vicki Lean and Daniel Morin. Johnson, Matthew Miller, Jim Czarnecki, Danny Gabai, Kronish, Spize Jonze, Eddy Moretti and Shane Smith executive produced.