In Brief: CTV sets Saving Hope premiere; Angry Inuk awarded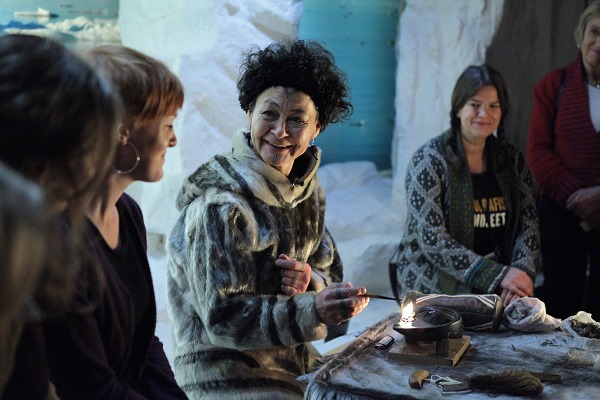 The final season of the medical drama debuts in March, Arnaquq-Baril's documentary takes a People's Choice prize, and more news.
CTV sets midseason premiere dates
The final season of Saving Hope will return to CTV on March 12. The series is produced by ICF Films and eOne in association with CTV. The 18-episode fifth season will air Sundays at 10 p.m. A premiere date for culinary competition show MasterChef Canada was also set. The fourth season of the Proper Television produced series will return Mar. 2 at 9 p.m.
TIFF names People's Choice Award winner
Alethea Arnaquq-Baril's Angry Inuk (pictured) won TIFF's Canada's Top Ten Film Festival People's Choice Award. The documentary, produced by the NFB and Unikkaat Studios, in association with EyeSteelFilm, was one of 10 films showcased during TIFF's Canada's Top Ten Film Festival. The doc introduces audiences to Inuit who are challenging anti-sealing groups. U.S. distributor BOND/360 recently announced it has acquired the documentary for American distribution. It will have its U.S. premiere at the Santa Barbara Internatioanl Film Festival, which runs Feb. 1 to 11. Angry Inuk is produced by Alethea Arnaquq-Baril and Bonnie Thompson (NFB), and executive produced by Bob Moore, Daniel Cross, and David Christensen (NFB).
Whites, Aerial MOB partner
William F. White International has entered into an exclusive partnership with California-based drone company, Aerial MOB. The drones, used for aerial cinematography, will be offered through Whites Specialty Equipment department as of this spring. Aerial MOB is one of the only companies certified for flight through both the Federal Aviation Administration in the U.S. and Transport Canada.
Deluxe names new Vancouver studio head
Kerry Shea has been named head of Deluxe Entertainment's Vancouver studio. She'll be in charge of daily operations for its global visual effects brand, Method Studios, and its TV post/VFX brand, Encore. Shea will report to Ed Ulbrich, president and GM of Deluxe VFX and VR. She joins the company from previsualization company The Third Floor where she was chief operating officer.
Lionsgate ups Chris Selak
U.S./Canadian studio Lionsgate has signed a new agreement with executive vice-president Chris Selak, expanding her role to include worldwide television. Selak will spearhead the company's collaboration with the newly launched Lionsgate U.K. television business, led by Zygi Kamasa and Steve November, and increase its U.S./U.K. coproductions. She'll also head up the team responsible for providing new scripted projects to Starz, which Lionsgate acquired in December.
Urban Post acquires Fearless Film and Video Corp.
Toronto's Urban Post Production has acquired The Fearless Film and Video Corporation. Fearless president Al Maciulis will join Urban as new business development manager. Four other Fearless team members have also joined the company. Urban has also announced the opening of a new 800 square-foot colour correction and screening facility.