How changing needs prompted Shaftesbury/Smokebomb to relocate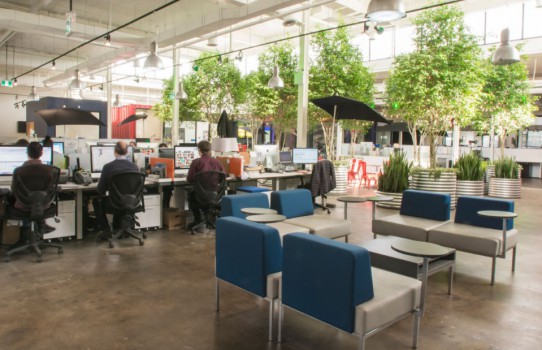 After 15 years in its Toronto HQ on Queen Street West, Shaftesbury chairman and CEO Christina Jennings felt a change of scenery was needed in order to galvanize a business that was becoming increasingly siloed.
Due to the expansion of the company's TV division, as well as the rise of its digital business over the past decade, Shaftesbury/Smokebomb had gradually outgrown its Queen Street base, leaving the two teams working in separate wings of the building.
"That's not how our business is anymore: we're simply a scripted-content company. It doesn't matter if it's a digital project or a TV project or branded – it's content," Jennings told Playback.
As well, the Queen Street office no longer had the capacity to handle the company's digital output and digital teams were being sent out to satellite offices in order to produce series.
With this in mind, Jennings and her team began searching for an open-concept office that would not only place Shaftesbury's 30 full-time employees in the same space, but also house its production teams and allow for filming of digital and TV projects.
The search lasted about 18 months before Jay Bennett, SVP of creative and innovation for Shaftesbury/Smokebomb, noticed the newly vacant space on Logan Avenue while Smokebomb was shooting at the nearby Hangloose Media studio.
The new 10,000 square-foot space was designed by Jennings' long-time collaborator Sandra Kybartas, who has served as the production designer on almost all of Shaftesbury's primetime series, including Murdoch Mysteries. Jennings said the new digs can comfortably house Shaftesbury's 30 full-timers, plus the fluctuating numbers of contract employees and incoming production teams that will work in the space. The office also allows for company growth in the coming years.
Employees began moving in during October, while work on the new space continued until early January.
On the production front, the Logan Avenue office is already serving its purpose, especially for digital series. Since moving, the company has shot more than 100 digital episodes, including 20 of the scripted kids series Splashlings, in its studio space.
Over the past 12 months, Shaftesbury/Smokebomb has started to play more in the kids genre, with series such as Emerald Code and Splashlings. Jennings said this is part of a strategy to develop and produce kids series that can exist outside the traditional broadcaster model, as the industry moves to a digital model less reliant on conventional broadcast TV.
In addition, the production team for what Jennings describes as a "smaller primetime series" is also moving into the office this month. Jennings did not give any details on the project, but further announcements are expected in the coming months and filming is scheduled to begin this winter. Going forward, the Logan Avenue office could also host filming on certain TV series as well.
Below are pictures of the new office. Click on the thumbnail to see an enlarged image.