Programming Profile: Syfy's Chris Regina
The SVP of program strategy at the U.S. net on what he wants to hear in a pitch, what producers can learn from Z Nation and why Sharknado was a success.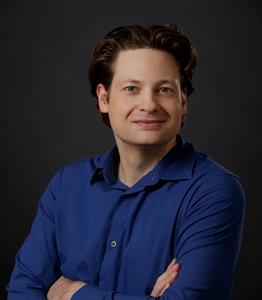 U.S. net Syfy is home to some of the most popular Canadian sci-fi series – and has even renewed shows such as Wynonna Earp and Dark Matter before their respective Canadian broadcasters gave the greenlight. Playback Daily spoke with Syfy's SVP of program strategy, Chris Regina about what it's looking for in the future, why visuals are so important and what Canadian producers can learn from its most popular series.
Who is the target audience for a Syfy show? 
We're looking to reach 18 to 49 year olds. When we're looking at developing content for linear we are trying to create concepts that are appointment-getting, that are tension-getting, in a world where people are looking to consume content in binge-worthy fashion and don't necessarily have the patience. We are developing serialized content, we're trying to reach a genre core audience at the same time be broad enough to bring in new viewers. So something that's expansive but at the same time still rooted in our genre.
What are you looking to hear in a pitch? 
We are looking for something that's going to reach a younger audience, something that will be very visual sci-fi that has that resonance, something that is a self starter, that has a strong promotional hook to it, something that has a lot of action and intensity to it and a fast-paced story. There's a lot of content that's being developed that is a slow burn, where it gets great by episode nine. The difficulty for a show on linear TV is you've got to keep [the audience] glued not only act-to-act but week-to-week. So [we're looking to] build something that's going to have those cliff-hangers and story progression that gets the audience's attention [early in the series].
Specifically in the genres, we're looking for things that we don't already have, that can complement our portfolio. We've got a vampire show, we have a zombie show, we've got a lot of post-apocalyptic content. Right now I think we're looking for something firmly rooted in pure science fiction. Something in that Ex-Machina space – futuristic sci-fi, the next evolution of near-future, but again, something that has action/thriller elements woven in and a unique visual Syfy style.
Can you explain the visual style you're looking to achieve with your series?
[We are looking for shows] that don't look like a show that you would find on any network out there. There's a lot of competitive science fiction programming that's on a lot of networks out there. I think it's important that we have a good visual sci-fi look and feel to our shows, so that they feel iconic to the brand.
I remember on Van Helsing [for example], right before shooting, I sat with [director and executive producer] Michael Nankin and talked to him about what we are looking for in terms of visual style. I told him, "Don't bring me television. I want you to look at this as if you're making an independent film." I think one of the challenges of making television in Canada is people have a reputation of following a traditional series look, a very traditional visual style that we plug in and what their expectation is for television. Canada often can get a bad reputation of, "Oh, they're not capable of doing high-quality content." I think that often comes from the direction and tone you set on a particular show and the type of talent that you bring to it. Nankin sat down, put together a lookbook, gave it a visual style and really became a mould for all the directors that came in after him to follow.
We shoot it at angles, we do a lot of wide shots, it has to do a lot with the lighting we use. It's more that dark, indie-feel as opposed to your traditional two-shots that you would see in standard television.
How does marketing play into what you're hunting for?
We're looking for things that can have cliff-hangers or things that become social elements. The best example would probably be something like Sharknado, which has a ton of cameos in there, really over-the-top, crazy social moments, GIF-able moments that people can pull out, that keeps the conversation going throughout. The content keeps people engaged and it can spread and [create] chatter about it as it's happening. [We are looking for] any [show] that's going to be relevant on that level. It needs to have an engine that is propelling it constantly.
What has been your most successful production?
To date, it's Z Nation. It's not a Canadian series – we shoot it in Spokane. [It was recently renewed for a fourth season.]
It's the number one co-production for 18 to 49 viewers on the channel; it's our most diverse show on Syfy in terms of where it indexes, so that's exciting. It capitalizes on a sense of fun in the audience. It plays counter to Walking Dead so it's been great to have a zombie show that (although in some ways competes with Walking Dead and can also never compete with Walking Dead because that's such a juggernaut) has found its own audience and own style and own voice and appeal. I think it's successfully done that now for a couple of seasons.
For producers, what's the take-home message from Z Nation?
It has all the attributes that we look for in a show. It's action-driven. It doesn't take itself too seriously, it sets itself apart a little bit from a lot of the dark content that's on TV. It is super fast-paced in terms of its story progression and character evolution. It always has surprises and surprise twists and WTF moments in it that keeps the audience on edge. And we've got a great cast of characters that have really connected with the audience as well as have tremendous synergy within the show.