Sky Vision to handle int'l sales on Bad Blood
The U.K. distributor will shop the New Metric and Sphere Media-produced scripted series at NAPTE next week.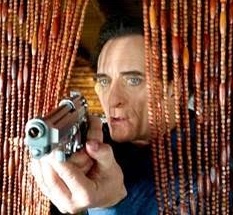 Sky Vision, the distribution arm of U.K. broadcaster Sky, has signed on to handle international sales on Rogers' Bad Blood.

Production recently wrapped on the six-part mafia drama, which is produced by Toronto's New Metric Media (Letterkenny) and Montreal's Sphere Media (19-2).
The hour-long miniseries, which is inspired by Montreal crime boss Vito Rizzuto, will premiere on City and FX in fall 2017. As well, the series will premiere at a later date on Radio-Canada in French Canada.
U.K. based distributor Sky Vision holds the international rights to the project, which it will begin shopping to global buyers at NATPE next week.
Shot in Montreal and Sudbury from October to December 2016, the miniseries, which is based on Antonio Nicaso and Peter Edwards' bestselling crime thriller Business or Blood: Mafia Boss Vito Rizzuto's Last War, was adapted for the small screen by Simon Barry and Michael Konyves.
The series was put into development when New Metric, which had optioned the rights to Business or Blood, pitched a round of projects to Nataline Rodrigues, director of original programming at Rogers Media.
"At the time [fall 2015], we weren't intending to pitch this project," New Metric's Mark Montefiore told Playback Daily. "We were pitching a comedy, and it obviously didn't go over so hilariously," he said, before Rodrigues asked about any other projects they were working on. When the Rogers exec heard the off-the-cuff pitch for Bad Blood, she put the project into development immediately.
With Barry and Konyves, both Montreal-based writers, tapped to adapt the book into a miniseries, New Metric and Rogers began reaching out to Quebec producers about the possibility of collaborating on the project, which led them to Sphere Media.
The producers first spoke with Sky Vision at the C21 International Drama Summit in 2015. Discussions continued from there and Sky Vision later took the worldwide rights to the series outside of Canada.
Directed by Montreal's Alain DesRochers (Bon Cop Bad Cop 2, Nitro), the miniseries was filmed over two weeks in Montreal and then five in Sudbury. Post-production is being split between Montreal and Toronto.
Bad Blood stars Anthony LaPaglia (Without a Trace) as Rizzuto, Kim Coates (Sons of Anarchy) as his right-hand man Declan Gardiner and Paul Sorvino (Goodfellas) as the family patriarch Nico Rizzuto Sr.
The project was financed by Rogers and Sky Vision, along with the Canada Media Fund, Northern Ontario Heritage Fund, Cogeco Cable Fund and Rogers Cable Fund, and is produced in association with DHX Media, with which New Metric has a first-look deal.
The series also stars Enrico Colantoni (Flashpoint), Brett Donahue (The Kennedys: After Camelot), Maxim Roy (19-2), Tony Nappo (Shoot The Messenger), Frank Schorpion (Arrival), Joris Jarsky (The Art of More), Michelle Mylett (Letterkenny), Clauter Alexandre (Trauma) and Vincent Leclerc (19-2).