In brief: Joly heads to China, Fight Xchange returns to Super Channel
The Minister of Canadian Heritage is accompanied on the trip by representatives from the NFB and Telefilm, Super Channel gets back in the cage with its MMA docuseries, and more.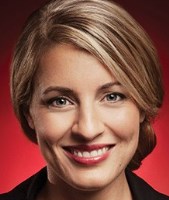 Melanie Joly heads to China with NFB, Telefilm representatives
Minister of Canadian Heritage Melanie Joly, along with representatives from the NFB, Telefilm and the Museum of Science and Technology, has begun a seven-day visit to China where she will meet with local officials and Canadian creators working in the country to discuss Canadian arts and culture. The trip, which consists of two days in Beijing and three in Shanghai, marks the first time in 12 years that a Canadian cultural minister has made such a journey to the Asian country. During the visit, Joly is scheduled to meet with representatives from Cirque de Soleil, Disney and Minority Media among others, according to a press release issued by Canadian Heritage. Following its "Canadian Content in a Digital World" consultations, which took place in the latter part of 2016, Canadian Heritage is expected to begin rolling out announcements and potentially changes to domestic cultural policy in the first half of 2017. It was also announced Wednesday that Joly will appear at Prime Time in Ottawa next month in a one-on-one conversation with CMPA president and CEO Reynolds Mastin.
Fight Xchange returns to Super Channel
Super Channel has announced a season-two renewal for mixed martial arts docuseries Fight Xchange. Ten new episodes of the show, made on a budget of approximately $850,000, will launch on the Allarco-owned channel on Monday, Jan. 16 at 7:30 p.m. Created, written and produced by Aaron Avruskin, the second season of the series takes place in Canada and Japan and focuses on the some of the Canada's up-and-coming fighters as they live, train and compete both at home and abroad. Fight Xchange is produced in association with Super Channel, and with the financial participation of Rogers Telefund and with the assistance of the Canadian Film or Video Production Tax Credit and the Ontario Media Film and Television Tax Credit. Also serving as producers/executive producers are Jatinder Gill, Baljit Gill-Burns and Gursharn Gill.
Baruchel to co-write upcoming Captain Canuck edition
Jay Baruchel has a new gig lined up – and its slightly outside his usual realm. The director/actor is partnering with the team behind Canadian comic Captain Canuck to co-write the Free Comic Book Day edition of Captain Canuck: Year One. The comic, which was created and launched by Richard Comely in 1975, has sold more than 250,000 copies worldwide and was in 2013 rebooted with an animated TV series. The comic series is published by Chapterhouse Comics and is written by Kalman Andrasofszky.
DAM! wins TIFF/TSO competition
Writer/director Kjell Boersma's project DAM! The Story of Kit the Beaver has won the top prize at a pitch competition held by TIFF and the Toronto Symphony Orchestra (TSO). Boersma's 12-minute animated film will now make its world premiere at Roy Thomson Hall in Toronto on Feb. 25 in front of an audience of children aged five to 12 years old. One of the stipulations of the competition was that submissions had no music. The TSO then paired Boersma with composer Erica Procunier, who wrote the score, which will be played live with the film at the Feb. 25 screening. The short will also be a featured piece in the TSO's Young People's Concerts Series and Student Concerts Series, which will be seen by approximately 20,000 students based in and around Toronto. Under the terms of the deal, Boersma retains full copyright to the project, though TSO will have control of certain rights to the project for the duration of the tour in 2017. After that time, all rights will revert back to Boersma.
Degrassi returns to Family Channel
Season three of Degrassi: Next Class is live. New episodes of the series premiered on Family Channel on Jan. 9 at 10 p.m. At the same time, the entire season launched in its entirety on the Family Channel App in Canada, as well as on Netflix worldwide. Produced by DHX Media, in association with Family Channel and Netflix, the new series sees a number of new storylines, including the arrival of a number of Syrian refugees. The show was also named as a finalist for the 42nd Humanitas Award. The season two episode "#TurntUp," written by Courtney Jane Walker, was nominated in the children's live-action category. The episode see character Hunter admitting to himself that he must seek professional psychiatric help.
Private Eyes adds star power for season two
Global's P.I. series Private Eyes has added a number of familiar faces for its season-two return, with William Shatner among those confirmed to appear in new episodes. Also tapped for cameos are HGTV's Home to Win host Sangita Patel, fashion entrepreneur Jeanne Beker, Indycar driver James Hinchcliffe, fashion designer Stephan Caras and Dark Matter actor Anthony Lemke. Production on season two began at the end of October, after the debuting show had proved to be a ratings hit for Global, drawing an average of more than one million viewers per episode during its first-season run. New episodes are scheduled to begin airing this spring.