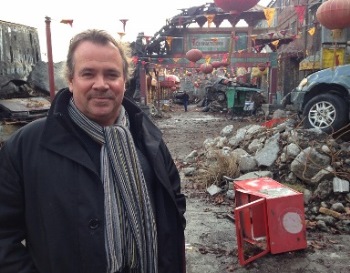 "Let's not settle for second best, let's go for 100%. Whether it's a $2 million movie or a $100 million movie it should be the same."
That was award-winning production designer Rob Gray's philosophy toward his work, which he shared with Playback Daily in an interview in December.
Gray, who won Genie Awards for his work in both Scott Smith's Falling Angels and Andrew Currie's Fido, died of cancer on Dec. 21 at the age of 54.
He began his career in 1984 working in the commercial production industry for Toronto-based prodco McWaters Vanlint, while also studying graphic design at Sheridan College. After graduating, he was working in props and set decoration when Jim Cuddy of Blue Rodeo (who also worked on spots at McWaters) took him under his wing and brought Gray on to work as a production designer on the then-burgeoning band's music videos.
Throughout the '90s, Gray worked for various commercial production houses on projects for the likes of Budweiser, Kelloggs, Ford and GM, back when budgets and shoots for commercials rivaled Canadian film spends. It was at one such prodco, Champagne Pictures, that Gray met Kari Skogland, who he would later collaborate with on The Stone Angel, The Cult and the TV miniseries Sons of Liberty.
"[The commercials] were big and we got to have vision on them," Gray said. "They left us alone so we could actually create things. At the time that we were in the thick of it – from 1990 to 2000 – it was crazy."
Gray's first feature film production designer credit was for Bruce McDonald's 2001 thriller Picture Claire after which he worked steadily in Canada and internationally on everything from low-budget features like McDonald's The Love Crimes of Gillian Guess, to TV series like Falling Skies and Bitten.
For one of his most recent projects, the History Network's Sons of Liberty, Gray was tasked with building 1770′s Boston, complete with ships and the town square, at a Communist-era studio lot outside of Bucharest, where the series was filmed.
"It was a difficult project to undertake. There was no Boston-like area – we were in Romania, they had no architecture that is [similar] to 18th century America, that's for sure. So everything had to be constructed," he said.
To create the worlds that his projects took place in – whether that be American Revolution-era Boston or a 1950s suburb populated by families and their zombie-servants (as in Fido) – Gray would first paint each individual set, helping to bring his vision to life.
"He's actually often a beat or two ahead of a director and sometimes the writer. Because he has to visualize it, he has to dig into the details they haven't yet thought of. He will come up with ideas and thoughts and worlds, or lenses to look at the world, that then start to add to what's on the [page]," Skogland told Playback Daily in December.
"You as a director are always inspired by the ideas that he comes up with. He takes the raw bones that you give him and brings something unimaginably better," she said.
Gray, who said he was always fascinated by character, described his role of production designer as being the "philosopher and the architect of the movie."
"You have to walk into the place and know the who, whats, whys and maybes," he said. "It's important to see the artifacts, and the storytelling behind the character in their location is vital."
Gray won this year's Directors Guild of Canada craft award for best production design on a mini-series for his work on Sons of Liberty. In addition to his two Genies, Gray also won DGC Awards for Fido and the miniseries Sea Wolf. He most recently worked as a production designer on Sienna Films' upcoming CTV drama Cardinal.
Gray is survived by his wife Marilyn and daughters Charlotte and EmmyLou.
Below are a selection of paintings and sets designed by Rob Gray.