Deals: CraveTV, Proper, 9 Story, Willson
Bell Media acquires 10-part psychic drama Shut Eye for CraveTV, 9 Story sells more than 200 episodes internationally, plus more deals.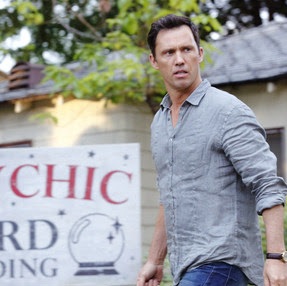 CraveTV
Bell Media has acquired the streaming rights to the 10-part psychic drama Shut Eye (pictured) for CraveTV. The series, which is written and produced by Leslie Bohem, follows a former magician (played by Jeffrey Donovan) with a small chain of fortune-telling storefronts in Los Angeles. Shut Eye is produced by Gran Via Productions and TriStar Television, with executive production from Bohem alongside Mark Johnson, Melissa Bernstein, David Hudgins, and Larysa Kondracki.
9 Story
Toronto-based 9 Story Media Group has scored licensing deals with Disney across the Asia-Pacific region for more than 200 episodes from its animation library. Disney Southeast Asia has picked up three series, including the first season of Haunted Tales (40 x 11 minutes), the second season of Nerds and Monsters (20 x half hours) and the second season of Numb Chucks (26 x 22 minutes). Meanwhile, Disney Korea acquired the second season of Peg + Cat (50 x 11 minutes), while Disney Japan picked up the third season of Camp Lakebottom (13 x 22 minutes). Down under, Disney Australia and New Zealand has licensed the first season of Camp Lakebottom (26 x 22 minutes), Nerds and Monsters (20 x 22 minutes) and Numb Chucks (26 x 22 minutes). The deals follow 9 Story licensing more than 800 episodes of its content to broadcasters in India, Singapore, Thailand, Hong Kong and Taiwan last week. Before that, it sold 500 episodes of kids and family content to broadcasters in Mexico, Uruguay, Chile and the Hispanic U.S.
Willson Entertainment
Paris, ON-based Willson Entertainment Productions has sold four short films to Aubagne, France-based distributor Gonella Productions. All four projects, Politics, Schrödinger's Cat, The Hotel Room and The Negotiation, are written and directed by Bobby Del Rio and executive produced by Willson Entertainment founder Matthew Willson. Stephanie Baird serves as producer on each of the films. The shorts star a selection of Toronto-based actors including Vienna Hehir (Darc), Katie Uhlmann (My Roommate's an Escort), Franck Fon (Gnawed of Approval), Jessica Reynolds (Taken) and Willson (Arrival, Skinning the Cat).
Proper Rights
Toronto-based Proper Rights has secured a raft of sales that will send more than 150 hours of factual programming and documentaries worldwide. Read more here.
A71
A71 Entertainment has expanded the remit of its business, acquiring the sales rights to three Canadian films and selling them south of the border for both theatrical and digital release. Read more here.
With files from Alexandra Whyte, Kidscreen