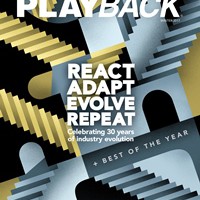 What does it take to be the best?
How about having a killer growth strategy – like Secret Location, which tapped into original IP as a source of lasting success after making a name for itself as a tech innovator?
Or perhaps it's taking up the helm as deal-maker and triple threat, fronting (and directing and producing) home-grown hits that are achieving global reach, just like Jason Priestley did.
Maybe it's a media company like the CBC, which found audience growth by diversifying its portfolio, tapping new niche audiences and sinking money into a long-term digital strategy.
Or perhaps it's just a really strong partnership, such as the one between Whizbang and Take 5 Productions that is maximizing lucrative opportunities with U.S. productions to fuel at-home growth.
This winter, we're honouring top Canadian film and television industry players, from those with super ambitious plans to double growth (eOne) to a kids prodco challenging stereotypes (Sinking Ship) to a reality hit that broke the mould (Home To Win).
So if you're still gearing up your 2017 planning cycle, take a read through this year's winners to see what it takes to be the best.