Best of the Year: Take 5 Productions/Whizbang Films
How the Toronto companies are bringing U.S. drama series (and dollars) north of the border.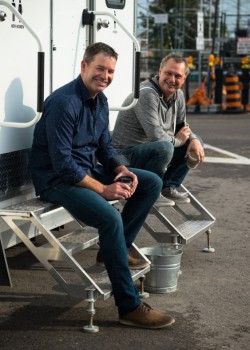 As 2016 comes to a close, we're rolling out our Best of the Year winners. From companies with killer growth strategies to strong and lucrative partnerships to production cos breaking down stereotypes, find out what it took to be the best. Check out all the winners here.
Serendipity smiled on John Weber and Frank Siracusa four years ago at a FilmOntario meeting. The respective heads of Take 5 Productions and Whizbang Films, both board members of the industry group, started talking shop.
U.S. network The CW had ordered the fantasy series Beauty and the Beast, and channel co-owner CBS, which was also producing, was reaching out about shooting in Toronto.
"I told John, 'I got a call from CBS Television Studios,' and he said, 'I got a call from CBS' finance department,'" Siracusa recalls. "A light bulb went off for both of us that we could service shows like that together."
They collaborated on Beauty and the Beast for four seasons and things rolled from there. Whizbang has been CBS' preferred Toronto service provider, earning big points for its work on the 2010 pilot for the Tom Selleck cop drama Blue Bloods. Along with Take 5, they have serviced more CBS Television series, including The CW's sudsy historical drama Reign – shooting season four this fall in Toronto; the first season of mystery drama American Gothic for the CBS network; and the forthcoming drama Incorporated for Syfy, not to mention the CBS pilots Cheerleader Death Squad, Taxi 22 and Transylvania and miniseries The Dovekeepers (2015).
Siracusa notes that a substantial amount of their volume is coming from SVOD platforms increasingly looking to produce their own shows. They recently collaborated with Netflix on the Vancouver-shot, Rose Lam-produced fantasy A Series of Unfortunate Events and in the fall shot the Margaret Atwood adapt A Handmaid's Tale in Toronto for MGM Television and Hulu.
"Netflix, Hulu and Amazon are trying to find the most efficient model, which doesn't necessarily include a production arm," Siracusa says. "Netflix is not like CBS, where you do everything their way. They basically say, 'Here are the seeds and the foundation of what we can serve as a product, but we're relying on your expertise to do it.'"
The Take 5/Whizbang partnership now encompasses 194 TV episodes – 57 in 2016 alone – with budgets exceeding $775 million. They have spent more than $535 million on their projects in Canada since 2012, employed Canuck directors on more than 159 episodes and recorded 55,000 crew days in Toronto this year.
A certified professional accountant, Weber joined service-company Dufferin Gate Productions in 1999 and bought a controlling interest from retiring founder Patrick Whitley in 2006. He sold his stake the following year and in 2009 launched Take 5.
Meanwhile, Siracusa learned the trade as an assistant director and production manager starting in the mid-'80s. He founded Whizbang in 1999 with actor/director Paul Gross, focusing on domestic productions including the feature Men with Brooms (2002), but it proved a challenging business model. Gross left in 2012 as Whizbang's service business was ramping up.
"Frank and I have very different backgrounds," Weber says. "My strength is more on financing, packaging, cost-management and budgeting, and my company is strong on business affairs and contract administration. Frank has a very strong production background. When you can put those two pieces together, it gives us a solid base not many other companies have."
They continue to work separately on proprietary projects. Take 5 has enjoyed a major success with the Canada-Ireland copro Vikings, which saw the backend of season four go to air in late November on History, where it is the ruling program. Production is underway on season five.
Whizbang, meanwhile, maintains a strong relationship with the Hallmark Channel, for which it started producing MOWs a decade ago. One of those, The Good Witch (2008), starring Catherine Bell as a small-town sorceress, led to a half-dozen sequels and a series. The third season, airing here on W, shot in the fall in Toronto to air next April.
The prodcos' collaborations usually see them strictly in a service-provider role, stickhandling tax credits and other financing, assembling crew, booking space and managing the shoot. With Toronto and Vancouver at or near capacity, their relationships with studio owners and gear suppliers help secure what a shoot needs, and in some cases at volume pricing (which the companies also enjoy on their own projects).
They enjoy some ownership of CRTC-certified co-ventures Reign and Beauty and the Beast, and Siracusa would like to see more of these. "I hope we become enough in demand that our partners respect that for the sustainability of the company we have to hold some IP," he says. "Service fees are great for the bank account but not for the long game."
Whoever owns them, these projects have been a boon to the local service sector and businesses such as Cinespace Film Studios.
"John and Frank's collaboration and co-venture structures have brought huge volumes of high-quality scripted U.S. drama to Toronto, giving Canadian actors and directors unprecedented opportunities for both employment and U.S. exposure," says Jim Mirkopoulos, Cinespace's VP. "We are fortunate to have them here, and hopefully their disruptive model can be an inspiration to the next generation of producers."
This article originally appeared in Playback's Winter 2017 issue.