In brief: Canadians at Slamdance; Prasuhn joins CMU
Daniel Warth's Dim the Fluorescents (pictured) will screen in competition at the Utah festival, the former VP and GM of Gusto TV finds a new gig, plus more news from the week.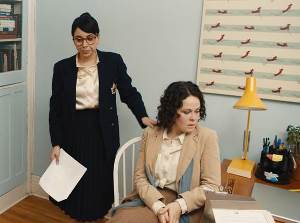 Slamdance adds more Canadian titles
Daniel Warth's debut feature Dim the Fluorescents (pictured) has been selected to screen in competition at the Slamdance Film Festival in the Narrative Features program. The film tells the story of a struggling actor (Claire Armstrong) and aspiring playwright (Naomi Skwarna) who are paid to perform corporate role-playing demonstrations. The film was written by Warth and Miles Barstead and produced by Josh Clavir and Julie Baldassi. Adrian Murray's Withdrawn will also make its world premiere in the program, alongside Joyce Wong's Wexford Plaza. Withdrawn follows a man who finds a lost credit card and plans to defraud its owner. It was written by Murray, Marcus Sullivan and Dean Tardioli. Also making its world premiere at the festival is Jordan Canning's Suck it Up. The feature will bow in the Beyond program, which highlights emerging filmmakers. The female buddy flick is produced by Jason Levangie and Marc Tetreault.
Mark Prasuhn departs Gusto, joins CMU
Mark Prasuhn, the former VP and general manager at Gusto TV, has announced his departure from the food-themed channel, taking a new role as senior VP, operations and strategic partnerships at CMU College of Makeup Art & Design. Earlier this year, Bell Media announced it had acquired rights to the Gusto TV brand in Canada, with the new channel launching in October. Prasuhn joined Gusto in September 2013.
The Commute nominated for WGA award
The Commute, a web series from the writer/director of Dane Clark and Linsey Stewart, has been nominated for an award from the Writers Guild of America, West. The series was nominated in the Short Form New Media – Adapted category, alongside Thug Passion, Life Ends at 30 and Now We're Talking. The winners will be announced at an awards ceremony on Sunday, Feb. 19, 2017.
Lark Productions topper joins Creative B.C. board
Louise Clark, president and executive producer at Lark Productions, has joined Creative BC's board of directors. Clark, whose producer credits include Real Housewives of Vancouver (Slice), Motive (CTV) and Emergency Room: Life & Death at VGH (Knowledge Network), joins board members, including board chair Gordon Esau and vice chair Robert Bromley.
George Hosek receives Regional Emmy
Toronto-based cinematographer George Hosek has been awarded the 2016 Chicago/Midwest Regional Emmy. The cinematographer won the Outstanding Crafts Achievement Off-Air: Photographer for the documentary Liberating a Continent: John Paul II and the Fall of Communism.