Best of the Year: Sinking Ship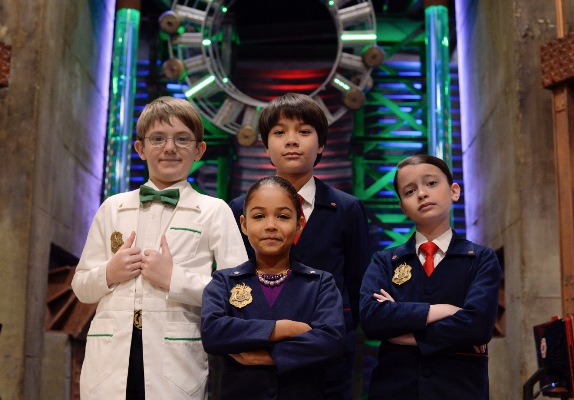 The prodco's bold (and necessary) diversity initiative is helping grow its huge success at home and internationally.
As 2016 comes to a close, we're rolling out our Best of the Year winners. From companies with killer growth strategies to strong and lucrative partnerships to production cos breaking down stereotypes, find out what it took to be the best. Check out all the winners here. 
When J.J. Johnson, Blair Powers and Matt Bishop launched Sinking Ship Entertainment 12 years ago with the goal of creating content for kids around the world, everyone in the industry pushed back under the assumption live-action children's series wouldn't perform well internationally. Today, the Toronto-based company that produces global hits like Odd Squad, Dino Dan and Annedroids has a collective seven Emmys and 32 nominations under its belt. And with a newly launched L&M division and plans to grow its in-house distribution, it doesn't seem like the company is slowing down anytime soon.
The company, which started with three partners and one show, ballooned to eight series and 50 full-time crew members by 2009. Today, the production company has 125 staff and produced 54 hours of content in 2016.
With each successful show Sinking Ship expanded into new areas (post-production, an interactive team, CG animation), and now it's eyeing theatrical distribution with the February acquisition of Toronto's Picture Box Distribution (which previously handled its distribution as an independent company).
"I find [having all departments in house] makes our projects that much better," says Johnson. Thanks to the success of Odd Squad (which receives nearly 600,000 viewers per episode on TVO, nearly four million on U.S. broadcaster PBS, roughly 40 to 50 million video streams per month, and has picked up six Emmys), the company had a taste of the big screen this past summer.
After "knocking on a few doors," the team realized they would have to distribute the show's first feature film themselves, so they struck up a deal with Cineplex to air in 90 theatres across Canada."Our brands are ready to move into a bigger field that allows us to do bigger stories. Odd Squad was a great first (small) step and our plan is to make it even bigger next time around," says Powers. "We beat Cineplex's expectations," he adds, noting the film sold out in 20 theatres.
Now the team is financing a follow-up (its network partners are currently on board and the company is eyeing Telefilm and international distribution entities next), along with the first Dino Dan feature, set to air in museums across Canada in 2018.
Part of the company's growth strategy includes a new L&M division, which launched last summer in New York.
Taking an experience offline, such as live events and merch, and managing the licensing is a next step for the company, says Johnson. However, he admits both streams are more challenging to maintain and grow. "Those are the things that go on to make the brand something [that] lasts for decades." Johnson expects some publishing deals to be announced soon, but for now the company has already secured an Odd Squad 60-city live tour across the U.S.
Behind the scenes, Sinking Ship is changing the narrative in another way: in 2012, it undertook steps to showcase gender and enthnic diversity on and off screen. "We believe kids need to see it to be it. It's our responsibility to ensure these characters match the wonderful variety of diversity and gender of our audience," Johnson says.
In 2015, it partnered with Women in View to create the 2x More initiative – a project in which female directors shadow current directors before helming their own episode. Six women have cycled through the program over its two-year lifespan, and all three of the first-round directors were asked to return to do more episodes. Two were too busy to accept. Now the guys are looking to grow the program in house.
That philosophy is playing out on screen as well. After Johnson read a study about the disparity of girls in shows, they switched to a female lead on Annedroids, though they were initially met with resistance from some U.S. networks that believed boys wouldn't watch a science-based series fronted by a girl. But not only has the series been nominated for eight Emmys and is available in 200 territories, but a recent study from the International Central Institute for Youth and Educational Programs found the show is helping reduce gender stereotypes among North American children and fostering girls' interest in science, technology, engineering and math. That, according to Johnson, is a better payoff than any Emmy.
"It's been a tough 12 years, but we feel like we have turned a bit of a corner," he says. "Now we have international networks approaching us as opposed to us always [going] out and pitching. I hope if we are an example of anything, it is about taking massive risks with the programming you do – trying to push the envelope. Those are the shows that get attention. We should not be chasing what other people are doing, but establishing our own narrative in order to be successful both in sales and in critical reception."
This article originally appeared in Playback's Winter 2017 issue.