Viceland's Rise to bow at Sundance
The Vice Studio Canada and APTN docuseries is one of two Canadian productions recently added to the U.S. fest's lineup.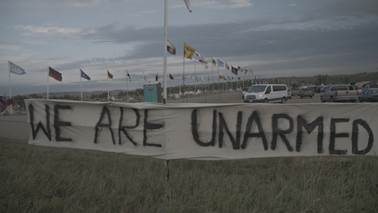 Viceland docuseries Rise will premiere at the Sundance Film Festival in January, Rogers Media has announced.
Three episodes of the series (pictured), which was produced in partnership with Vice Studio Canada and APTN, will screen in the festival's Special Events category.
Rise, directed by Algonquin/Métis filmmaker Michelle Latimer and hosted by Sarain Carson-Fox, examines Indigenous culture and acts of resistance. The three episodes presented at Sundance will focus on protests against the Dakota Access Pipeline at the Standing Rock Sioux Reservation, Arizona's San Carlos Apache Tribe and their work to protect the lands of Oak Flat, and the evolution of the Red Power Movement.
The series was originally slated to debut as part of Viceland Canada's fall schedule, but was pushed back to next year. "Given the nature of the content, in that Rise follows active stories – such as what is currently unfolding on the Standing Rock Sioux Reservation – we recognized that we simply needed more time in order to properly capture these Indigenous stories," Nataline Rodrigues, director of Original Programming, Rogers Media, told Playback Daily. "Additionally, we always strive to find the right time slot that allows our original series the best possible chance to succeed, and the mid-season schedule provided a much stronger option in which to debut this important series." Rogers Media said broadcast details for the series will be announced in the upcoming weeks.
The Sundance Film Festival also announced its lineup for its Premieres, Documentary Premieres, Midnight, Spotlight and Kids programs yesterday, with U.S./Canada mystery Rememory also slated to debut in the Premieres program.
Directed by Mark Palansky, who also wrote the script with Michael Vukadinovich, the feature takes place after the mysterious death of an inventor who has created a machine that can record people's memories. The film is produced by L.A.-based First Point Entertainment and Toronto's Scythia Films, with Daniel Bekerman producing alongside Lee Clay, executive producers Robert Halmi Jr. and Jim Reeve and co-producer Ethan Lazar.
Last week, it was announced that Rezolution Pictures' feature doc RUMBLE: The Indians Who Rocked the World would world premiere at Sundance in it's World Cinema Documentary Competition, as would Canada-U.K. copro Tokyo Idols.
The Sundance Film Festival takes place in Salt Lake City in Utah between Jan. 19 and 29, 2017.