Two Canadian shorts make Oscar's animation shortlist
Theodore Ushev's Blind Vaysha (pictured), produced by the National Film Board, is one of 10 animated films to advance.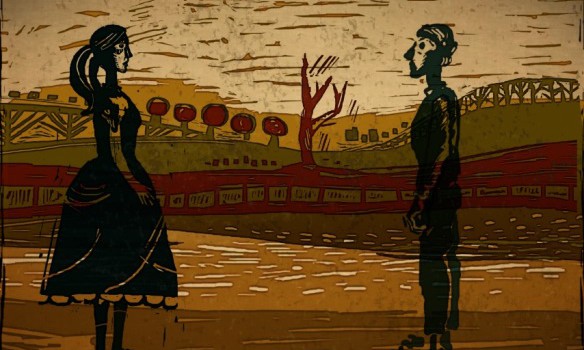 Two Canadian animated shorts have a shot at walking home with an Oscar this February.
Theodore Ushev's L'Aveugle, Vaysha ("Blind Vaysha") and Canada/France coproduction Une tête disparaît ("The Head Vanishes") are among 10 projects still in the running to claim the best animated short film prize at the 89th Academy Awards.
The two projects must now wait until Jan. 24, 2017, when the category's five official nominations are announced. There were 69 projects entered initially for the category.
Blind Vashya is produced by the NFB, while Une tête disparaît is directed by Franck Dion and produced by Paris-based Papy3D Productions, NFB and ARTE France Cinema Department.
Both projects have claimed awards over the course of 2016, with Blind Vaysha  winning both the Cartoon Network Award for Best Narrative Short Animation and the Canadian Film Institute Award for Best Canadian Animation at September's Ottawa International Animation Festival. Meanwhile Une tête disparaît won the best short film prize at Annecy International Animation Film Festival in June.
The other shorts up for Oscar consideration are Borrowed Time,  Happy End, Inner Works, Once Upon a Line, Pear Cider and Cigarettes, Pearl, Piper and Sous Tes Doigts ("Under Your Fingers"). 
The 2017 edition of the Academy Awards will be held on Sunday, Feb. 26, 2017.