Production underway on Dark Matter season three
The intergalactic sci-fi series will return to Bell Media's Space channel and NBCUniversal's Syfy in 2017.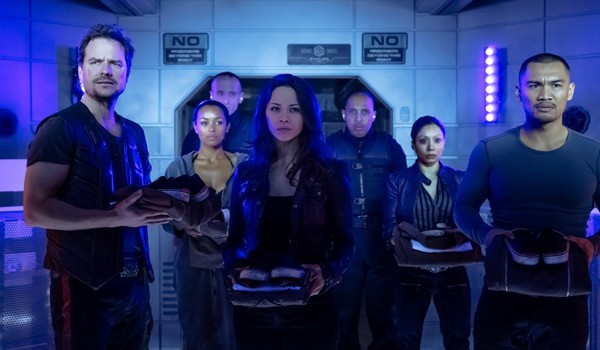 Cameras are rolling in Toronto on the third season of sci-fi drama Dark Matter, with 13 new episodes set to premiere next year on Syfy in the U.S. and Space in Canada.
Syfy announced its renewal of the Prodigy Pictures-produced series in September, though this is the first time Bell Media has confirmed the series will return to Space.
Filming on the hour-long show takes place at two purpose-built sound stages in Etobicoke and shooting is scheduled to run until April 2017.
New directors for season three are Craig David Wallace (Todd & The Book of Pure Evil: The End of the End) and Melanie Orr (The Stanley Dynamic), who join returning directors Ron Murphy, Bruce McDonald and Steve DiMarco.
No air date has yet been set for the season-three premiere, though the past two seasons have launched in June or July. The show has posted impressive ratings since it its launch in July 2015. The most-watched episode of season one drew a total audience of 534,000 viewers (2+), while the season-two opener drew 444,000 (2+) in Canada.
The series is executive produced by Prodigy Pictures founder Jay Firestone (Lost Girl, XIII), Joseph Mallozzi (Stargate) and Paul Mullie (Stargate). The series stars Melissa O'Neil, Anthony Lemke, Alex Mallari Jr., Jodelle Ferland, Roger Cross and Zoie Palmer. New cast include Ayisha Issa (12 Monkeys), Mishka Thébaud (Bitten) and Andrew Moodie (Trust No One).
Dark Matter is based on a graphic novel of the same name, created by Mallozzi and Mullie.
Endemol Worldwide Distribution handles international distribution on the show.