Cancon exporters form industry association
Blue Ant's Raja Khanna (pictured) is chair of the new organization, which aims to increase the visibility and export of Canadian TV and digital content.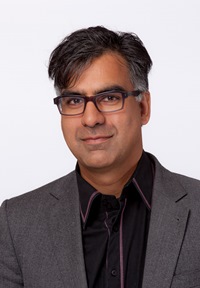 Some of Canadian media's biggest players have formed an association to support the export of Canadian content, it was announced Wednesday.
The Canadian Association of Content Exporters – Association Canadienne des Exportateurs de Contenu (CACE-ACEC) was formed by founding members 9 Story, Blue Ant Media, Cineflix Media, Corus Entertainment, DHX Media and eOne/Les Films Séville.
Raja Khanna,CEO, television and digital at Blue Ant Media, will chair the new association. A release announcing the formation of the association stated the group will focus on enhancing the international visibility and export of Canadian TV and digital content.
The idea to form the group was initially devised at MIPCOM, during discussions between founding members about the export of Canadian content, Khanna told Playback Daily.
"When we got together it was obvious that it was time to coordinate our efforts. We as exporters felt that we didn't really have a united voice at the table," he said. "Our driving mandate is to play a part in redefining a sustainable Canadian content industry."
Though the governance structure of the group (such as roles and titles for its members) is still being worked out, Khanna said the CACE-ACEC wanted to announce its formation quickly so that it could engage immediately in the policy reviews that are ongoing in Canada. "We are here to help facilitate that discussion" he added.
In the coming weeks, the organization will work to document and formalize its policy priorities so that it may participate in the ongoing Canadian Heritage Cancon consultations and other policy reviews.
Khanna also pointed to strong exportability as a key to sustaining a healthy industry overall. "Increasingly, the activity of export and the revenues that are associated with that are a critical part of that sustainability," he said.
Included in the organization's mandate is ensuring that the success and revenues derived from the international sale of the content is reinvested in Canada.
Khanna also recently spoke to this issue at the recent Cancon consultation held in Toronto in October, before the idea of the group had been broached. At that consultation, Khanna suggested that the Canadian system should support those who take risks on the export of content. "In the case of TV, that is television distributors that give an advance to a producer – that's an economic risk based on a belief that that piece of Canadian content will sell in some other country," he said last month.
There will be further announcements regarding the governance structure of the CACE-ACEC in the coming weeks.