Deals: 9 Story, Blue Ice, Quebecor, PNP
Blue Ice Docs acquires the Canadian rights to Opus 59 Films' Aim for the Roses (pictured), plus more from PNP, 9 Story, Portfolio and Quebecor.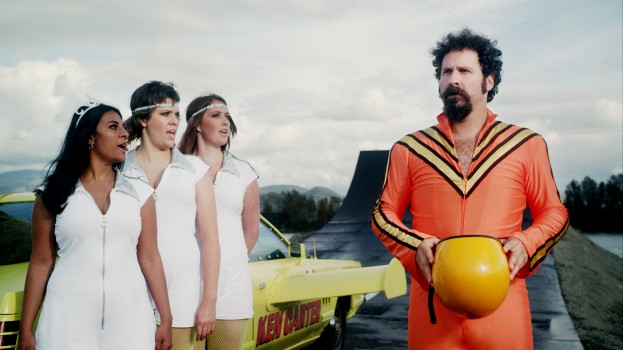 Blue Ice Docs
Toronto's Blue Ice Docs has picked up the Canadian distribution rights to Opus 59 Films' Aim for the Roses. The documentary, which world-premiered at Hot Docs earlier this year, is written, produced and directed by John Bolton. The film charts the making of a concept album that pays tribute to Canadian daredevil Ken Carter. Blue Ice will release the film at Vancouver's Vancity Theatre on Dec. 2, and intends to roll the film out to other cities in the new year.
Portfolio Entertainment
Portfolio Entertainment announced a number of international deals emanating from last month's MIPCOM. National Geographic Channel took DOKI (26 x 30 minutes) for its kids channels in the Middle East and North Africa, while Studio U7′s Channel Ryzhy in Russia picked up both the first and second season of the children's series. Elsewhere, international children's content platform PlayKids acquired The Cat in the Hat Knows a lot about That for U.K., Ireland, Australia and New Zealand. Playkids also picked up DOKI for U.K., Ireland, U.S. and Canada.
9 Story
Toronto's 9 Story Media has inked a number of deals that will see more than 500 episodes of its content finding an audience in Latin America. Canal Once (Mexico) picked up season one of Peg + Cat, as well as the second season of Daniel Tiger's Neighbourhood and Camp Lakebottom. Meanwhile, TV Uruguay acquired season one of Peg + Cat, while CNTV (Chile) picked up season one of Peg + Cat and season two of Wild Kratts. Elsewhere, SomosTV, which has a presence in multiple South American territories, purchased seasons one and two of Monkey See Monkey Do and Meteor and the Mighty Monster Trucks. As well, Canal 22 in Mexico took live-action science Finding Stuff Out and season one of Wild Kratts. 
PNP
Vancouver-based indie distributor Pacific Northwest Pictures has acquired the Canadian rights to the documentary David Lynch: The Art Life. Directed by Rick Barnes, Jon Nguyen and Olivia Neergaard-Holm, the film made its world premiere at the Venice Film Festival in September. PNP picked up the rights from sales agent Film Constellation, but has not yet announced when the film will debut theatrically in Canada.
Quebecor
Quebecor Content has acquired the rights to U.S. television series Frequency (Jeremy Carver Productions) and Lethal Weapon (Good Session Productions). Quebecor acquired the series from Warner Bros. International Television Distribution and will announce which of its linear and digital platforms will carry the series at a later date.
White Pine Pictures
White Pine Pictures' documentary All Governments Lie: Truth, Deception and the Spirit of I.F. Stone has been acquired by First Run Features for U.S. distribution. Read more here.
DDI
Toronto and L.A.-based Double Dutch International has announced a number of deals for kid-friendly Canadian films, including Geoff Anderson's The Adventure Club. Read more here.