Filming underway on Private Eyes season two
Star Jason Priestley finds himself in the director's chair for episode one of the returning detective series.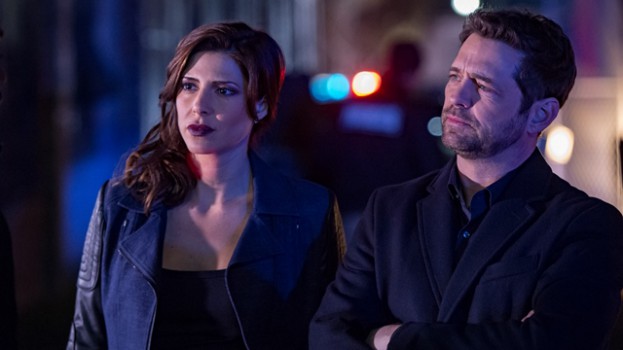 Cameras are rolling in Toronto on the second season of Private Eyes, with 18 new episodes set to begin airing on Global in spring 2017.
Produced by Entertainment One and Piller Segan, in association with Corus, the follow-up season will see the return of private investigators Matt Shade and Angie Everett (played by Jason Priestley and Cindy Sampson, respectively). Samantha Wan (Second Jen) also joins the cast for season two, alongside returning members Jordyn Negri, Nicole de Boer, Barry Flatman, Ennis Esmer and Clé Bennett.
Season two will also see Priestley in the director's chair for the first episode of the season.
Private Eyes proved to be a significant ratings driver for Global in its 10-episode first season, with the first two episodes each drawing an average audience of 1 million (2+) before the series was greenlit to an expanded second season.
Private Eyes season two is executive produced by John Morayniss and Tecca Crosby for eOne, Shawn Piller and Lloyd Segan for Piller Segan, Jason Priestley, Alan McCullough, James Thorpe and Tassie Cameron. McCullough and Piller serve as showrunners for season two.
The hour-long show is produced with the financial participation of the CMF, the Canadian Film or Video Production Tax Credit and the Ontario Film and Television Tax Credit.
Correction: the first season of Private Eyes averaged 1 million viewers, not 1.4 million as previously stated. The 1.4 million viewers comprised the AMA for the series' pilot.